For the some 25% of American adults who skip or skimp on their insulin, new price caps for the essential drug could prove health-preserving or even lifesaving.
Eli Lilly and Co., which holds about 23% of the international insulin market, announced March 1 it will cut prices of its most commonly prescribed insulin products by 70% starting this spring.
"I think for a good number of patients, this is going to be huge," said Gundersen Health System endocrinologist Dr. Daniel Short.
The cost reduction follows the Biden Administration's Inflation Reduction Act, which implemented an insulin price cap of $35 for Medicare recipients. Lilly's plan will cap prices of Insulin Lispro Injection at $25 per vial for all patients. Prices for Humalog will fall from about $275 to $66 per vial, and Humulin $149 to $44.
Most patients with diabetes average 2-4 vials per month of the medication. Those without insurance are guaranteed a $35 or less price for all Lilly insulins under the Insulin Value Program. The company also is launching a basal insulin injection comparable to Lantus, costing 78% less than its competitor.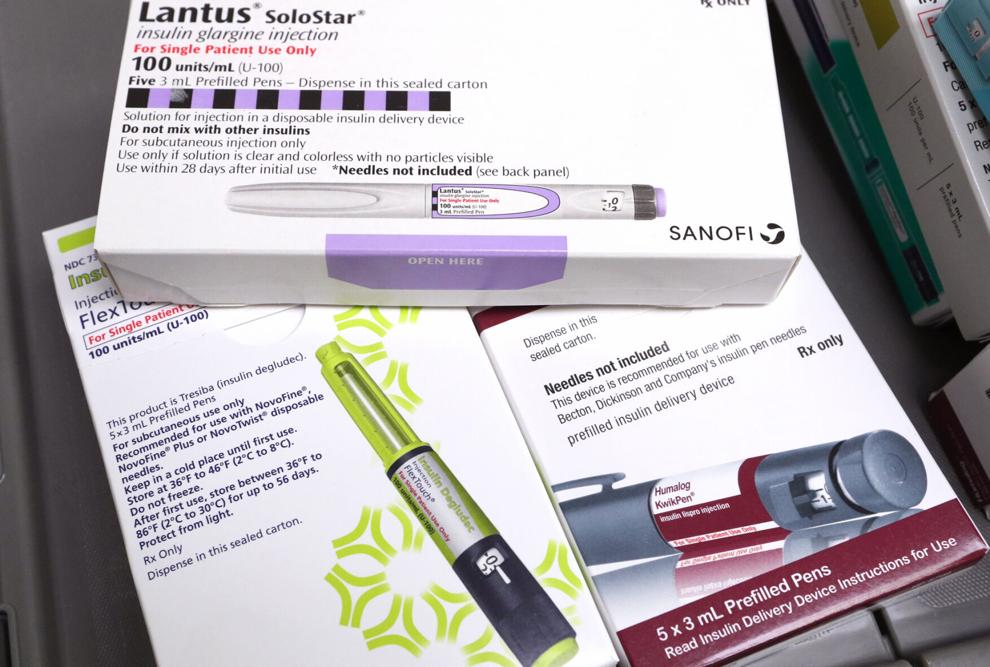 "While the current health care system provides access to insulin for most people with diabetes, it still does not provide affordable insulin for everyone and that needs to change," David Ricks, chair and CEO of Lilly said in a press release. "The aggressive price cuts we're announcing today should make a real difference for Americans with diabetes."
Everything adds up
People with diabetes spend some $10,000 each year on medical expenses, double the health care costs of Americans without the disease. For Marjorie Jasinski, having two household members with the condition was financially straining for a time.
Jasinski, now 83, was diagnosed with hereditary Type 2 diabetes 30 years ago and began taking insulin around 2010. Her late husband also was diabetic and went through Veteran Affairs to help cover the cost.
"It was expensive when you were trying to raise a family and make ends meet, but it was necessary that we take it," Jasinski said.
Short connected Jasinski with the Lilly Insulin Value program, without which her four daily insulin shots would cost hundreds of dollars a month.
"I didn't know how lucky I am until I found out the price that insulin would be," Jasinski said. "Of course, you have to get the test strips and things too, and those aren't cheap, either."
Jasinski, who moved to Brodhead 14 months ago, continues to travel to La Crosse to see Short, noting, "I'm very thankful to have Dr. Short and his team help me out."
The price cap, Jasinski believes, is "going to be a wonderful thing to help those who haven't been as fortunate as I've been along the way."
With a growing number of individuals being diagnosed with Type 2 diabetes, and one in three Wisconsin adults considered prediabetic, Short says it is "phenomenal" the debilitating cost of insulin is starting to be addressed, but other manufacturers need to follow suit.
Costs skyrocketed
Paying for insulin has for decades been a hardship for many Americans, around 1.3 million of whom have needed to ration, delay or entirely skip their insulin doses. The problem is greatest among those with Type 1 diabetes, for whom missing a dose is especially dangerous.
From 2014 to 2019, the average price for insulin increased by 54%.
Some 7.5 million diabetic Americans need insulin, and they pay substantially more than patients in other countries. A RAND Corporation study, commissioned by the U.S. Department of Health and Human Services, found the 2018 cost per vial in the U.S. was $98.70. The second highest price was $21.48 in Chile, while U.K. residents paid $7.52.
A Health Affairs study, published in July 2022 and examining 2017 and 2018 Medical Expenditure Panel Surveys, found 14.1% of those who used insulin spent more than 40% of their post subsistence family income on the drug.
Such an expenditure may lead patients without insurance, or a high deductible, to stretch a one-month supply of insulin over eight or even 12 weeks.
"That's because the cost can be hundreds of dollars a month for some people, and, depending on how much they are using, thousands of dollars," Short said. "And for some people it's untenable."
Short has had patients report they cannot afford their insulin, and while the hospital can direct them to a drug repository program, "that only goes so far. It can be an enormous problem."
It shouldn't be this way, Short said. Insulin has been around for 101 years, and synthetic insulin was first produced in 1978. The first rapid-acting insulin analog, insulin lispro (Humalog), was introduced in 1996.
"You would think at this point it would be cheap, but it's not," says Short. "There were initial research costs, it was expensive to develop these drugs, but that was 27 years ago or longer. So at this point it's probably mostly profit there — one can presume that if they're bringing it down to 35 bucks a month instead of just stopping making it, they can afford it."
Added pressure
Medical organizations and lawmakers for years have advocated for lower insulin costs, a move which "people's lives depend on," Short said. According to Right Care Alliance, from 2017 to 2019 at least 13 people died due to insulin rationing, including a 26-year-old Wisconsinite and 21-year-old and 26-year-old Minnesota residents.
"No one with diabetes should die because they can't afford their insulin," Right Care Alliance said. "It's a medicine that can be produced for just a few dollars, but manufacturers Eli Lilly, Sanofi and Novo Nordisk mark up the price as much as 5,000% and there are 7 million Americans with diabetes that have no choice but to pay."
Eli Lilly has taken the step to cap its prices, but, as Ricks points out, "Seven out of 10 Americans don't use Lilly insulin. We are calling on policymakers, employers and others to join us in making insulin more affordable."
Short says the Medicare and Lilly price caps should "put the pressure" on the other manufacturers to follow suit.
"I think this is going to have a domino effect," Short said. "The different brands of insulin are not terribly different from each other, so if Lilly says it's going to do $35 a month, Novo Nordisk is going to have to walk in step with that. If people can get it for $35, who is going to pay $300 or $500 or $1,000?"
Short is hopeful the insulin price cap will also be a precursor to price cuts for other medical expenses.
"This will spread into other areas of health care, on medications, particularly things out on the market a long time," Short says. "Hopefully we could get the prices dropped on some of these other lifesaving medicines."
Counties with the highest diabetes rate in Wisconsin
Counties with the highest diabetes rate in Wisconsin
#25. Vilas County
#24. Manitowoc County
#23. Marinette County
#22. Oconto County
#21. Florence County
#20. Burnett County
#19. Rusk County
#18. Richland County
#17. Jackson County
#16. Clark County
#15. Kenosha County
#14. Waushara County
#13. Sawyer County
#12. Shawano County
#11. Price County
#10. Green Lake County
#9. Racine County
#8. Rock County
#7. Ashland County
#6. Langlade County
#5. Juneau County
#4. Adams County
#3. Forest County
#2. Milwaukee County
#1. Menominee County