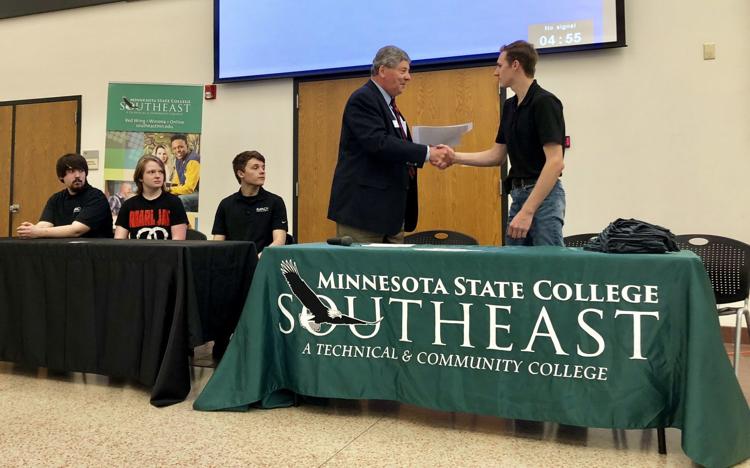 As athletes do when they are bound for a dazzling sports career in college, a handful of Winona Senior High students gathered for their "signing day" moment at Minnesota State College Southeast Wednesday afternoon.
The school's interim president Larry Lundblad shook each of their hands and a room full of parents and local business leaders broke into applause.
But these students' career paths don't involve football, basketball or track — instead they'll be working on CNC machines, computer-assisted design, blueprinting and filling other critical roles in today's working world.
Fifteen students are part of the high school's inaugural graduating class from the REACH program, a Winona Chamber of Commerce initiative that partners with the high school and MSC-Southeast to give kids a chance to learn hands-on skills that will better prepare them for life after high school.
"They're finding their place," said Nicole Schossow, the chamber's REACH program coordinator. "This is a great thing for these guys, a great opportunity that is getting them off on the right foot."
The program began with a manufacturing focus and this year added a health care component. In addition to immersions at community businesses, students also enroll in a required soft-skills course and attend "etiquette luncheons" to prepare them for the workplace.
About half of this year's program graduates are actually graduating from MSC-Southeast with a certificate in prototype engineering, including Brandon Brommerich, Andy Grathen, Jake Jonsgaard and Zach Goesch, who all participated in Wednesday's signing day.
Goesch and another student, Tucker Hemmelmen, secured jobs before graduation with Fastenal. They'll attend school full time and work part time, and the others will pursue careers with manufacturing companies as they continue their college education.
You have free articles remaining.
Rhonda Aspenson can see a change in her REACH kids.
"Work really hard and keep pushing, even when it gets tough," Jonsgaard said of what REACH has taught him.
The program helps with the big stuff and the small, Grathen added — even knowing the proper order in which to take the signing-day paper from Lundblad and accept a handshake.
"A lot of these kids didn't really have an idea of what they wanted to do," said high school principal Mark Anderson. "The fact that they applied and went through the process of interviewing and staying in the program for two years is outstanding."
Businesses who hire REACH grads are getting highly skilled students, Anderson said, who can "jump right in" with their extensive knowledge of the machines and tools behind some of the most-needed jobs in the workforce.
"They're phenomenal kids," he said. "I'm just proud of them."
Pride was evident at Wednesday's ceremony: from the chamber staff, from families and business partners and from the students themselves, who talked readily about the multitude of skills they've picked up in the last two years and boasted about each other's successes to ensure that not one was left unnoticed.
The signing day underlines those successes and recognizes them for what lies ahead, Schossow said.
"It is about being a productive person in the future. This is our opportunity to say what you are doing matters," she said. "We really wanted to focus on celebrating what's next for all of them."