Loving. Inclusive. Musically gifted. 
And one who could be easily bribed with sweets.
Winona resident Erik Floan left behind a church full of parishioners, staff and a community who will miss his dry humor, his unmatched musical talent, his artistic contributions and his best friend — his dog, Kettle.
Floan, the director of worship, music and arts at Central Lutheran Church, died unexpectedly May 30 at his home. He was 49. A celebration of life is planned for 11 a.m. Saturday, July 14, at Mount Olive Church in Minneapolis. There will be two local services in remembrance of Floan — one at 6:30 p.m. on Wednesday, June 20, and another at 9:15 a.m. Sunday, June 24 — both at Central Lutheran Church, 259 W. Wabasha St.
"He was just the most outstanding person, organist and artist," church member Judy Davis said.
Floan was a man of many talents, but possibly his most notable one was his musical gift on the organ. He'd been practicing since 10 years old when he asked his parents for organ lessons for his birthday. On a recent day, Davis walked through Central Lutheran Church as she reminisced of his impact. Gingerly stepping up to the intricately engraved two-story tall organ that stood front and center before the church pews, Davis said Floan's love and talent for the organ were "just unreal."
"He would just make that organ sing," church member Dian Biesanz said, her palms together as if in prayer, her voice staggering a bit as she spoke. "You could tell he felt his music."  
Sitting at the three rows of keys with his dog next to his side, Floan could be found at the organ during church services, but also after hours practicing by himself. 
"Sometimes I would sneak in and just listen," Davis said.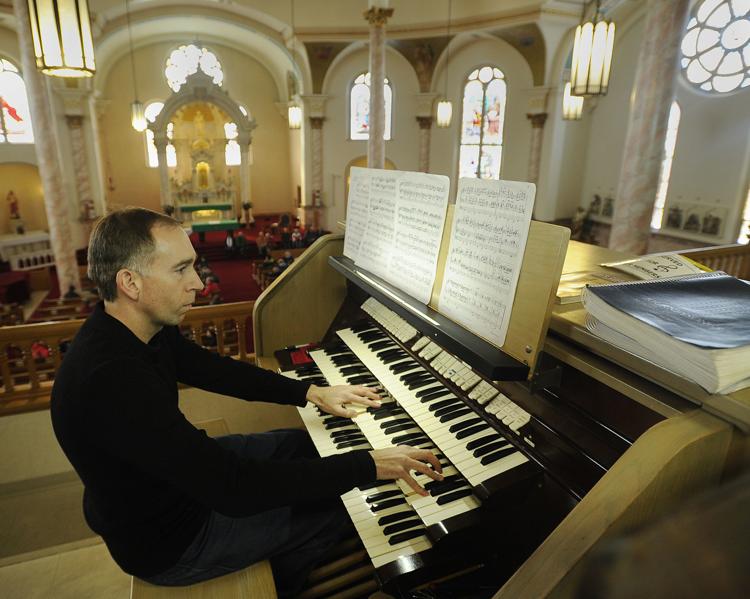 She would find a nearby pew, close her eyes and let the music sweep her away. 
"He always needed to be 100 percent prepared in whatever he did," she said. 
Davis paused. And then laughed. For a moment her thoughts had drifted away to a memory of Floan at a church talent contest. 
"He played an entire song by rolling oranges up and down the keyboard," she laughed. 
His talent expanded to much more than music though. Floan had a talent of connecting with others and connecting each other. 
You have free articles remaining.
Register for more free articles
Stay logged in to skip the surveys
On a recent Sunday, a group of members sitting at a table socializing after church said over and over again how well he connected with children and church members in general. He helped out during Sunday school, taught confirmation class, and would involve kids wherever possible. He was even in the process of pursuing further education in the field of children, youth and family ministry.
"The kids in Sunday school," church member Judy Benson said. "As soon as he played the piano, they were just right next to him." 
He would even go to kids' sporting events and band and orchestra performances outside of church. And when a team, band or kid won an award, he'd be the first to put their pictures on a church display board. 
"Every once in a while he'd call them up in front of the congregation to be acknowledged," Davis said. 
He'd also connect others to each other by involving families during holidays with fun activities — like when he'd have families act out the story of Easter. 
And then there was the way he connected people to their church and faith. He was the church's esteemed decorator, stained glass interpreter, and the candle maker. 
"It was a joy to just come and see what he was doing with decorations," Benson said. 
There are little decorations left. Davis pointed to a bare wall and said his paintings and decorations were often hung there, but the church had taken them down out of respect and to possibly give to the family. 
Across from the bare wall was a colorful stained glass window depicting Jesus. Windows of similar outstanding beauty lined the sanctuary. Davis said Floan was the one to help them connect with those windows at a deeper level. At one point he took the whole church through the interpretations of each window, giving them a whole new perspective of the works of art. 
And then there were his candle-making skills. Davis walked over to a tall beautiful candle wrapped in intricate fabric. 
"This is something he does every year," Davis said, speaking of Floan in the present tense. "He takes the wax from the Easter vigil candles (that everyone has) and he makes a baptismal candle."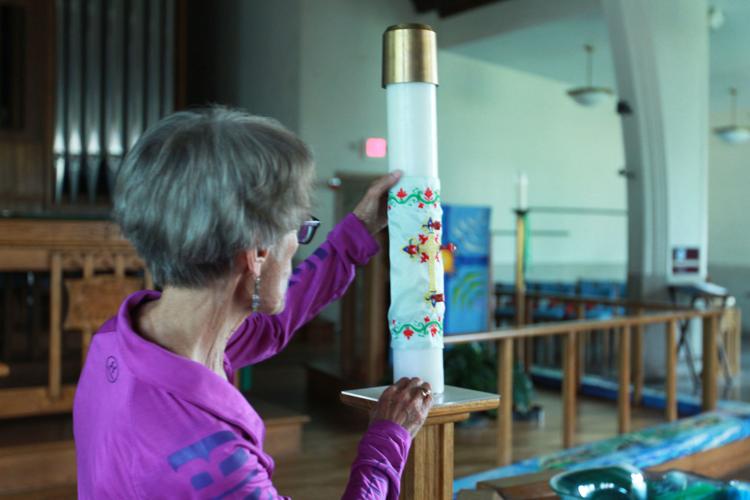 Floan would spend all night making the candles, she said. 
Floan had an immeasurable impact on the church and those who knew him, his friends said. He helped orchestrate visits from the Bach Society of Minnesota, helped put on numerous other events, and went way beyond expectations in all that he did. 
Church members said it's been hard to come back to church and feel the void of his presence. 
"You somehow get through these things," Davis said. "And you just keep going. That's what Erik would want."