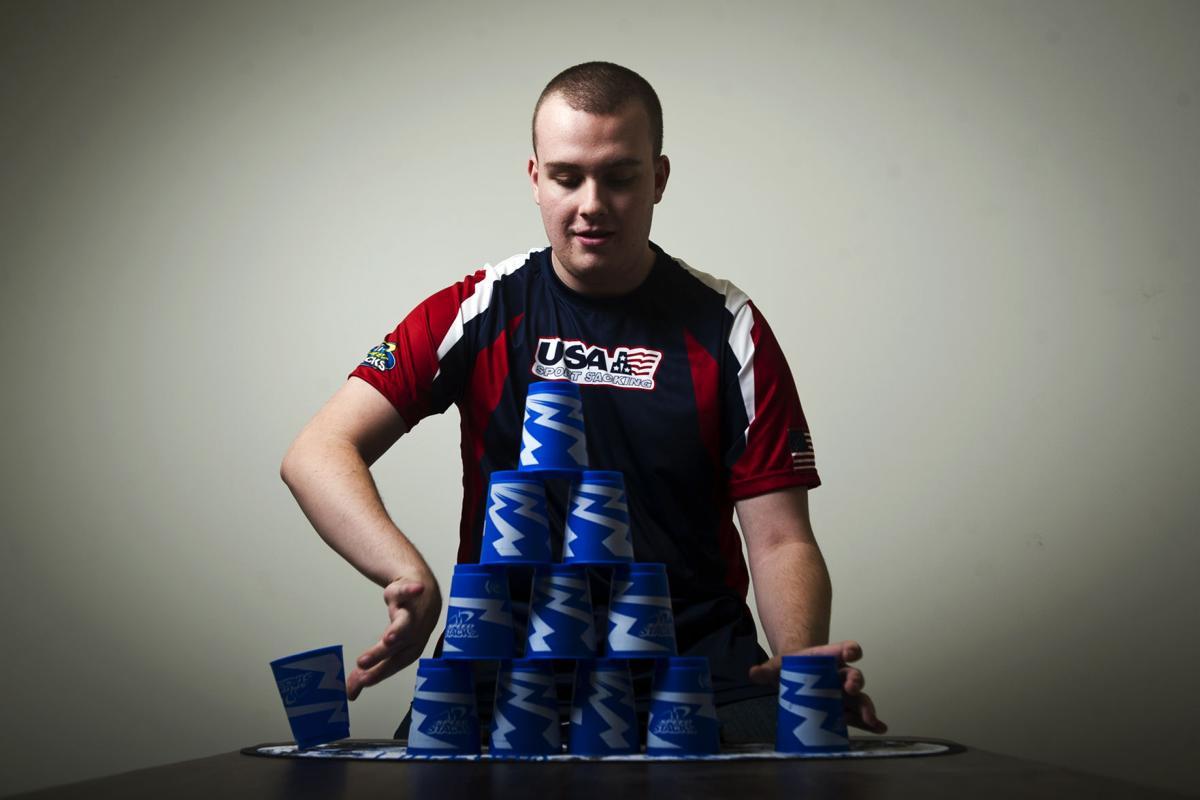 Before children started asking for his autograph, Jesse Horn was quiet and shy.
He didn't say his first word until after his third birthday, didn't realize his potential in school and didn't have much of a social life because he didn't have that many friends.
Jesse, 19, says all of that has changed. He credits sport stacking, the game of fast-paced cup-stacking, for building his confidence and for helping him cope with his autism. Now the Cochrane-Fountain City High School graduate is bringing his story to local classrooms, hoping to reach children like the one he used to be.
"I introduce myself, tell them how I got started and then I stack for them," said Jesse, who stacks on Team USA and travels the country to compete in tournaments. When he speaks at schools, Jesse shows the students how to stack and lets them try for themselves.
"It's so rewarding to work with a child," he said. "They respond to you and get really excited."
"I like to share my story, and maybe sport stacking can help someone else."
In sport stacking, competitors time themselves as they stack plastic cups into pyramids. Good stackers like Jesse, who is ranked 53rd in the world, according to the World Sport Stacking Association, stack with an almost cartoonish speed. In a few seconds, he can stack a pyramid, unstack it and stack it again.
He got started when he was 9. He saw a commercial for a speed stacking instructional DVD and said he needed to learn to stack.
"He was never into trucks or playing in the dirt," said his aunt, Lola Longyhore. "We would buy him toys, and they would just wind up under the bed. We thought this would be one of those things."
But after the cups arrived and he started practicing, Jesse's family noticed a change in his spirits. He was so immersed in his stacking that he could recite the DVD word for word. Sport stacking improved his focus and convinced him he was talented, he said. It also got him out of the house.
Jesse stacked in his first tournament when he was 13, making friends almost immediately. He started a YouTube channel where he posts videos of himself stacking, and he says he has built even more friendships online.
"He opened up," said his uncle Paul Longyhore.
Now when Jesse goes to tournaments, he is like a star athlete. Children go up to him and ask for his autograph, which he makes with a big "J" and a smiley face, which he learned from his uncle.
It is not clear how stacking and unstacking cups affects a person like this.
Lola said people who have autism find comfort in sport stacking because it is repetitive. According to the National Autistic Society, people with autism who find a source of repetition and structure in their lives are more likely to handle stress and to feel more confident in social settings.
By visiting schools, Jesse is hoping to share that comfort with all children — but especially those who have autism, he said.
"I'd like to brighten their lives," he said.
A few years ago, a young boy was having problems in school, wasn't able to look people in the eye. His teacher suggested he spend time with Jesse.
The two spent countless hours together that summer, Jesse teaching the boy to stack.
In time, the boy started to show signs he was feeling more comfortable and confident.
And whenever he would stack, Lola said, he would repeat word for word the instructions Jesse had given him.
Get local news delivered to your inbox!
Subscribe to our Daily Headlines newsletter.