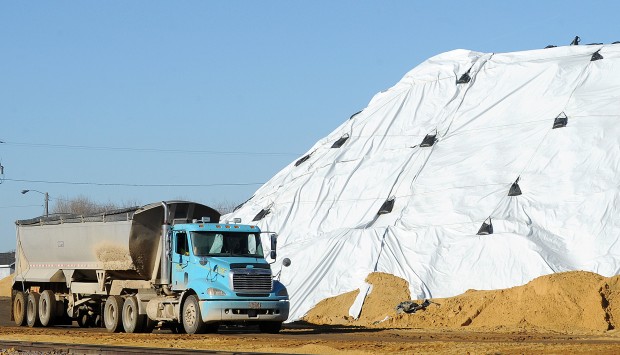 Houston and Fillmore counties both passed yearlong frac sand moratoriums Tuesday, adding their names to a growing list of area counties seeking time to study the issues that surround the booming mining industry.
Both counties have been approached by landowners interested in sand mining, according to officials, but neither has formally considered permits for operations.
The Houston County Board of Commissioners voted 4-0 to institute a one-year moratorium. Commissioner Tom Bjerke was absent. The Fillmore County Board of Commissioners voted 4-1 at its meeting, with commissioner Randy Dahl voting against.
Dahl said Tuesday he was in favor of a moratorium, but not a full year.
"The county has already been working on this issue," he said.
The Fillmore County board created a committee about a month ago to explore changing the county's mining ordinances, and commissioners Dahl and Chuck Amunrud said the committee plans to finish well before the moratorium runs its course.
You have free articles remaining.
"Our board has always acted quickly," Dahl said.
In Houston County, a majority of the board had publicly supported a moratorium for weeks, and the county's planning commission meeting voted 4-3 Feb. 13 to recommend the one-year moratorium.
The board considered passing a moratorium last week following a public hearing, but backed off after advice from county officials to schedule a second public meeting in mid-March.
Houston County Commissioner Justin Zmyewski said Tuesday the board initially thought the second public meeting was required by law. When commissioners determined it wasn't, they decided not to wait. The public meeting will still be held but will be an informational session.
"We'll get going on research and study and get the ball rolling as soon as possible," Zmyewski said.
The two counties join Winona and Wabasha counties in declaring moratoriums. Winona County approved a three-month moratorium in January. Wabasha County approved a yearlong moratorium in August.
Across the river in Wisconsin, frac sand mining industry is creating similar frenzy and concern. Ten mines in Trempealeau County are either active or have been approved. Another four have been approved in Buffalo County. Buffalo County initially considered a moratorium late last year, backed away, and is now again considering one.