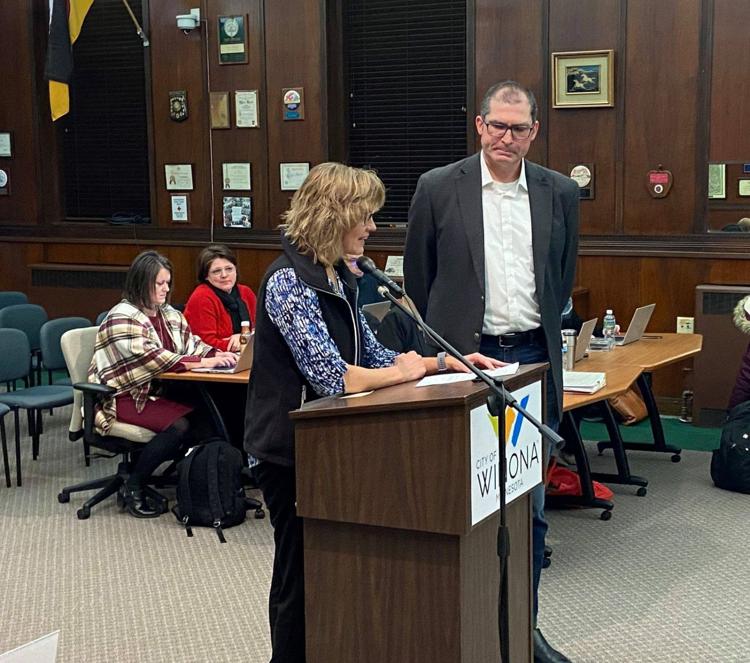 Key organizational decisions, including the swearing in of board member Jim Schul, were completed by the Winona Area Public Schools board Thursday evening.
Schul, who filled a vacancy on the board back in March, later won an uncontested special election in November. Even though he had already spent more than six months on the board, he was sworn in Thursday as a new member.
Judge Nancy Buytendorp led the way as Schul took the oath, which will start his first full year with the board, declaring that he is willing to help lead the way for the district to have a bright, successful future.
The officers on the board stayed the same as the prior year, with Nancy Denzer as board chair, Tina Lehnertz as vice-chair, Michael Hanratty as clerk and Karl Sonneman as treasurer.
While the decision to have Denzer continue as chair was unanimous, there was some competition when it came to the vice-chair position.
Board member Allison Quam nominated Hanratty for the position, and he was supported with votes from himself, Quam and Sonneman.
You have free articles remaining.
Lehnertz was able to stay in the position though, with votes from herself, Denzer, Schul and board member Steve Schild.
Hanratty and Sonneman continued in their positions by acclimation.
The officers will participate in training for their positions, better preparing them to serve the district.
For stipends, Denzer will receive $125 each month, and the other board members will receive $100 each month.
All board members will participate in a variety of committees with the district.
The board decided that the district's legal counsel for the year will be Ratwik, Roszak and Maloney. Quam and Sonneman decided against this decision.
Regular school board meetings this year will continue to be on the first and third Thursday of each month, with the exception of the second March meeting being on March 26; July 16 being the only July meeting; and Oct. 13 being the second October meeting.