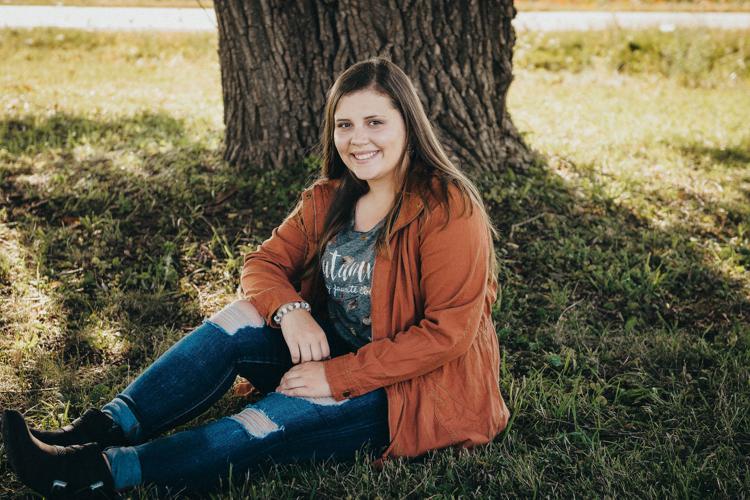 One fire destroyed more than just the belongings of a Mabel-Canton High School family, but also took away the stability of their lives in January 2018.
Senior Brooklyn Wallin remembers receiving the call from her mother that changed her life. Brooklyn was out to dinner when she was informed of the tragic news that her family's home had burned down.
While the phone call wasn't the most pleasant way to receive the news, Brooklyn said, she knew her mother wanted to make sure she was the first to tell her.
"It was probably one of the worst phone calls I've gotten," Brooklyn said.
She felt herself emotionally breaking down before heading to where the home once stood to reunite with her family.
Brooklyn is Mabel-Canton High School's Winona Daily News Above and Beyond nominee. She continues to overcome and stay positive in a harsh journey of growing up – which has included a devastating fire and facing epilepsy — that many cannot imagine experiencing.
"I pretty much lived a normal life until our fire and then from there, it was kind of crazy," Brooklyn said.
After the fire, the Caledonia native, who lived most of her life in Canton, began to move around as her family searched for a new place to call home.
Right after the fire, Brooklyn, her two younger brothers Sean, 8, and Steven, 6, her sister Brianna, 15, and her parents Tina Holzwarth and Steven Wallin had to stay in a hotel for a week as they searched for a new place to live.
The Red Cross helped them with the expenses.
Then, after the hotel, they rented a place that they were only able to stay in until summer.
They eventually ended up living with her aunt as they continued looking for a new permanent house.
Eventually, after multiple moves, they found a new place to call home in Caledonia, where they currently reside.
The journey to find a new stability in Brooklyn's life was stressful for her and her loved ones.
Her parents were facing financial struggles. Luckily, the community stepped up to help with benefits and fundraisers. Even her principal would give them meals sometimes.
"We got a lot of help. And for that I'm so grateful. I wish I could thank everybody," Brooklyn said.
She had to give up some of the activities she enjoyed in life, like volleyball and softball. She was able to continue with some opportunities, though, as she finds herself in cheerleading, National Honor Society and student council.
Brooklyn works a lot as a certified nursing assistant in Spring Grove. She used to also work another job at the Mabel BP.
While doing both work and activities, she finds time to be successful in school and spend time with family.
"I feel like (the fire) made us all a lot closer than we were. This made us all realize that family is kind of everything," Brooklyn said.
She helps take care of her younger siblings while her parents work and attempts to be a good example for them.
She said, "I was really sad and upset (after the fire). But I tried to be positive because my siblings are all younger than me besides my older half-brother. … So I try to keep a positive mindset for them and just lead by example, so that they have something to look forward to and so they could be happy, too.
"Honestly, I just want to show them that, you can go through a lot of struggles in life and still overcome them and be a good person. And that you can achieve anything you set your mind to because that's what I hope to do," she said.
Brooklyn does have one older half-brother who she met for the first time recently.
Her health began to challenge her, too, because of the stress.
Throughout her life she had minor little twitches and jerks that her doctor hoped would be helped if she changed her diet and focused on eating healthy.
The problem only grew worse though as the stress began to build up after the fire.
After a major seizure episode, Brooklyn was diagnosed with juvenile myoclonic epilepsy in June 2018.
"It's been a struggle because it impacts literally everything," Brooklyn said.
She explained that the some important changes include having to make sure she always gets enough sleep and to be on top of her medications, so that she can drive.
She already had some knowledge about epilepsy because one of her younger brothers has it.
Brooklyn is working to educate others about it, too, through activities such as speaking to her classmates in health class about her diagnosis.
Brooklyn makes sure to keep her head held high throughout all of the harsh experiences in her life. She's learned to grow from her traumas.
"I think it's really made me stronger as a person. And as a leader, I think, too," she said.
She said that the experiences have taught her that "there are really challenging things in life, (but) you can get through them and push yourself to be a better person every day."
In the fall, she hopes to head to the University of Wisconsin-Eau Claire to major in nursing. One day, she hopes to work in a hospital or clinic.
She plans to continue staying positive and pushing herself forward, while making sure that she is happy.
To keep striving and learning new things, while experiencing new opportunities, are Brooklyn's goals for the rest of her life.
Be the first to know
Get local news delivered to your inbox!