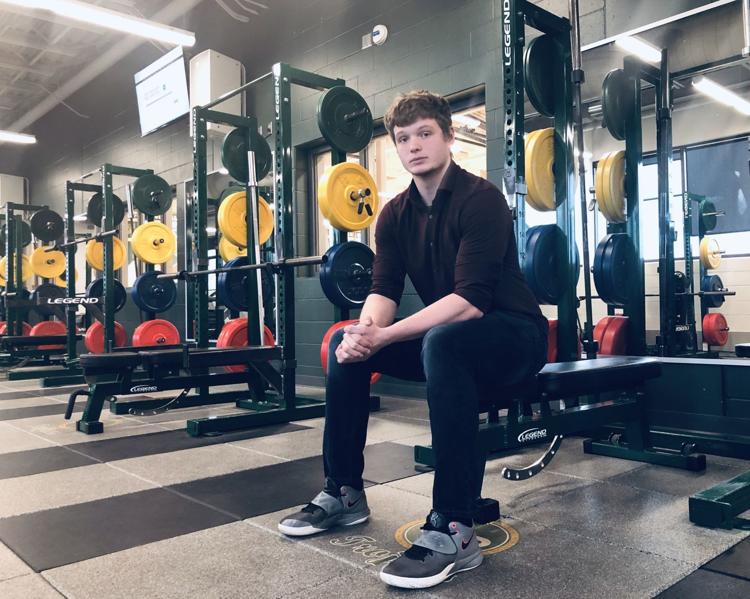 Vinnie Mason didn't start high school as a model student.
When he was 12 years old, his father passed away, and for a few years afterward he didn't have a care in the world.
"I would say I was in a dark place and didn't really see a light at all," Vinnie said. "I wasn't trying in any of my classes — I didn't care. I was getting in a lot of arguments and fights."
But then something clicked his sophomore year.
"It was my dad's death anniversary and I had a talk with my head coach, Davin Thompson," Vinnie said. "He explained to me who I could be and I realized I could live a better life for my dad and for my family."
That hasn't gone unnoticed by the faculty at Rushford-Peterson High School. Now a senior, Vinnie has been selected as the school's recipient of the Winona Daily News Above and Beyond award.
Given his past, Vinnie, 17, didn't know what to expect when he was called down to the principal's office the day he won.
"I thought I was in trouble," Vinnie said, before reflecting on how far he had come from the angry kid just a few years prior. "I've definitely stepped my game up and everything. I feel achieved with this."
Rushford-Peterson Principal Jake Timm echoed Vinnie's sentiments of having a rough start to high school.
"Vinnie and I sometimes joke about attitude when he first came here and how it's changed from then to now," Timm said. "Junior and senior year, the switch from Vinnie just doing 'Vinnie' things to looking at little kids and just being there for them as a big brother-type is amazing."
Even when he was going through a rough time in his life, Vinnie made a name for himself by giving back to the youth football program by coaching flag football — something he has done each of his four years in high school.
As time went on, Vinnie made such a connection with those he coached that, when they would attend his varsity football games, he would go out of his way to go up to them, give them a high-five and a take a picture with them.
This didn't just occur only when Vinnie was coming off a winning game, either; even when his team lost, he continued to extend the generosity by greeting the kids, a gesture so noteworthy that parents often comment on it with glee, Timm says.
On a particular Halloween, Timm also noted, a family came up to him and said that Vinnie had just given his football gloves from the previous season to one of their children.
Vinnie didn't need to do it, he wasn't told to do it; he just did it because he wanted to.
In his own way, Vinnie has become a bit of a celebrity in Rushford, so much so that parents of the children he has mentored have been expressing sadness that he won't be around next year to have the same interactions with their kids.
They talk about how their children are lamenting that their "hero" won't be able to come up to them after participating in a game, give them a high-five and take a picture with them anymore, Timm says.
"He has a big heart," Timm said. "He doesn't always show it … and even when Vinnie was doing 'Vinnie' things, he still had a big heart. "
When it comes down to what he wants people to know about him, Vinnie's answer shouldn't come as a surprise:
"I just want them to know me as the guy who was always there for the little kids," Vinnie said.
Vinnie serves as an example that the death of a loved one doesn't mean the end of all optimism in the world.
Yes, it takes time to heal and understand this familiar, but at the same time different, world, but once the spirit to continue kicks in, it is possible to become a beacon of inspiration for others.
For Vinnie, that means mentoring kids and making them happy.
After his graduation from Rushford-Peterson, Vinnie says he'll be heading to Minnesota State College Southeast in Winona to gather a few credits. After that, he intends to enroll at the University of Wisconsin-River Falls where he will major in physical education.
If all works out for him, Vinnie sees himself becoming a gym teacher in the future.
Why a gym teacher? Given where Vinnie's priorities are, his reasoning should seem only natural:
"I want to be that teacher who makes school fun for kids," he said.
Even though one chapter of his life is coming to a close with his imminent graduation, another is being written — and in it there's a consistent opportunity for him to make the lives of kids fun and rewarding.
Vinnie Mason didn't start high school as a model student, but he is certainly a model human being now.
Be the first to know
Get local news delivered to your inbox!