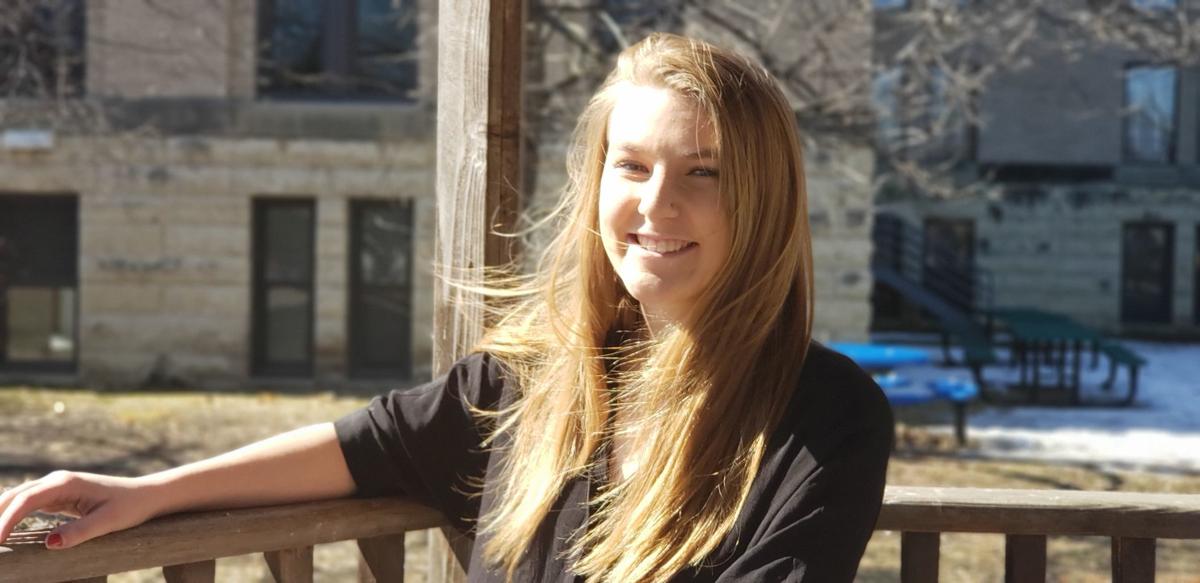 She was 14. He was turning 18.
It was New Year's Eve Day in 2015, and the two had never met.
They were in a room alone together. She said no. He didn't listen. Afterward he left without saying a word.
Mackaylee Kohner is Cotter High School's Above and Beyond nominee and is a young woman who refuses to let sexual abuse define her life.
After years of court battles, therapy and a lot of time out in nature, Kohner has become determined to use her pain to make the world a better place instead of letting the sexual abuse eat her up inside.
The emotional pain certainly tried.
The day of the abuse, Kohner had been with some friends and they had decided to go over to someone else's house. A few hours later, after the abuse had taken place, they walked back across town.
Her head was buzzing. She felt "gross." She hadn't told her friends. As a matter of fact, she wouldn't tell a single soul until nearly four months later.
"I never imagined telling anyone," she said. "Especially my parents."
During the months of silence, Kohner began to change.
She became quiet. Angry. Edgy.
Finally in April 2016, a friend pulled her aside, intent on knowing what had happened that caused such a drastic change in her personality.
Kohner mustered the courage to say out loud what had happened. Kohner's friend encouraged her to tell an adult — and even went as far to say he would tell if she didn't. So the next day she told her teacher.
At the time it was too much to face her parents. She was thankful when the Cotter High School principal and her teacher agreed to meet with her parents and explain what had happened.
"It was a relief," she said. "It's hard to share something like (that)."
The day of the meeting, Kohner stayed home and waited anxiously for her mother to return. When she finally saw her pull into the driveway, Kohner went outside to meet her. She waited until her mom stepped out and slowly closed the door.
"She gave me a hug and didn't say anything," Kohner recalled. "She just held me and we cried. She said no matter what she'd be there for me."
Kohner would certainly need the support for the chapter that came after.
Soon after her parents were told, the family went to the police and thus began a long journey of court battles.
But it didn't stop there. Social media had blown up with news of what had happened and everyone had an opinion to share.
"Not everybody was going to hate him," Kohner said with an edge of frustration.
Some people accused her of being drunk, among other things.
"That's one thing we as a society need to get better at," Kohner said bluntly.
Going through the two-year court process was an emotional roller coaster, Kohner said. Every court appearance was another opening of a wound she was desperately trying to heal and it made it harder knowing there was no guarantee a conviction would come of it.
But she kept going. And she kept speaking up.
Finally it started to make a difference for her.
"The day I started feeling empowered was the day I did my impact speech where I spoke in the courtroom," she said.
She told her story, and after a third-degree sexual conduct conviction in 2018 was able to take a sigh of relief.
Kohner worked to move on in her life.
That was at least until she got a message from a boy who said his sister was assaulted by the same individual. He knew Kohner had gone through the same thing and was searching for advice.
It sparked a fire within her.
"Just knowing I could help somebody felt powerful," she said.
Not long after, she found out another individual had come forward saying she was also assaulted.
Advocating against sexual assault has become a passion for Kohner.
"This ignited a fire in my heart, my mind, my soul," Kohner said.
Kohner said she wants victims to know they are more than what happened to them. That sexual assault changes them, but doesn't have to define them.
Looking toward the future, Kohner plans to go to Saint Mary's University to major in environmental science. She hopes to connect her love of outdoors and her passion for healing trauma.
"The most peaceful place for me was to be outside," she said. "Nature never judged me. It brought a sense of peace."
For Kohner there's no better way to cope with her trauma than to use it to make the world a better place.
"That's why all of us were put on the planet," she said. "To help others."
"That's why all of us were put on the planet — to help others." Mackaylee Kohner
"That's why all of us were put on the planet -- to help others."

Mackaylee Kohner
Be the first to know
Get local news delivered to your inbox!