Terrence Terry, 21, of Winona faces charges of first-degree assault and second-degree assault after the stabbing of a 19-year-old Winona man Monday.
When Winona police arrived at a residence on the 400 block of West Ninth Street, they found the victim of the attack had neck, chest and hand wounds and was spitting up blood. According to officers, he claimed that a Terrence had assaulted him under the impression that the victim had money.
The victim was immediately intubated after being brought to Winona Health, before being transported to St. Mary's Hospital in Rochester.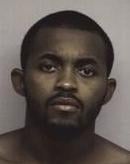 Officers spoke with three witnesses. The first witness, who overheard the incident and found the victim bleeding profusely, never saw Terry.
The second witness made contact with Terry, who was wearing a shirt with blood on it and who had blood on his hands at the time, police said.
According to the witness, Terry claimed to have been in a fight and that he had robbed the victim. He said that he might have also stabbed the victim in self-defense, police said. The witness put Terry's clothes into a dumpster and gave him a new shirt to wear.
When officers located Terry, he was wearing the shirt described by the second victim and had blood on his shoes. He was arrested and brought to the law enforcement center. According to the complaint, Terry claimed to have brought cocaine to the victim, while under the impression that the victim would pay him half of the value of the 1.8 grams of the substance. Terry was also planning on picking up marijuana from the victim. During the incident, according to Terry, the victim claimed to have not agreed to pay, leading to a fight between the two men when Terry became angry with the victim, police said.
Terry also claimed to have pushed the victim, with the victim then pushing back. Terry was worried that he would lose a fight, so he stabbed the victim, police said.
According to the complaint, "An investigator said 'it sounds like you're trying to kill him.' Defendant responded 'yeah.' When asked why he tried to kill victim, defendant said he needed the money. Defendant told law enforcement he was 'money hungry.'"
Sign up for our Crime & Courts newsletter
Get the latest in local public safety news with this weekly email.