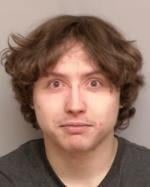 A Rollingstone man was charged on probable cause of fifth-degree domestic assault Monday night in Rollingstone after getting into a physical altercation with a woman and subsequently swinging a child.
At 11:36 p.m., police received a complaint from neighbors stating they were awakened by shouting coming from next door and could hear one of the neighbors yelling, "Put the child down."
Upon arrival, police were told that Gabrial Steve Bolduan, 22, was in the residence "destroying" property after a physical confrontation with the woman.
Bolduan refused to speak with police, according to the report, who also found multiple items strewn about the residence.
According to the woman, the baby had not been feeling well all day and was crying. The woman briefly stepped away to "cool off" and upon returning found Bolduan playing video games while the baby was still crying.
She said she got frustrated and began to argue with Bolduan, who, according to the complaint, began throwing property around before grabbing the child by the arm and leg and swinging the child.
The woman said when she was able to get the child away, Bolduan poked her in the chest and punched her.
Bolduan was subsequently arrested on probable cause of fifth-degree domestic assault and fear.
Sign up for our Crime & Courts newsletter
Get the latest in local public safety news with this weekly email.