A 30-year-old Rochester woman accused of strangling another woman and striking her while she held her one-year-old baby was referred Friday to the Winona County Attorney's Office on a felony domestic assault charge and other charges.
Yaneelyn Ayaka Taya Quay Hodges was referred to the Winona County Attorney's Office for felony charges of threats of violence and domestic assault by strangulation. Hodges also faces lesser domestic assault charges.
According to the criminal complaint, police were dispatched to the 50 block of Links Lane in Winona at 11:18 p.m. Thursday. Upon arrival, officers found the alleged victim, whose lips appeared swollen and who had apparent blood under her nose and around her mouth, the complaint says. She had a three- or four-inch scratch on the left side of her neck.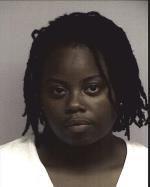 You have free articles remaining.
Register for more free articles
Stay logged in to skip the surveys
The woman told officers that during an argument about one hour before, Hodges had strangled her from behind and reportedly said, "I will kill you." Shortly after, the woman said Hodges punched her in the face while she held her one-year-old son and began "throwing" her around, according to the complaint.
The woman said Hodges had assaulted her multiple times in the past, but she had never reported it.
When officers spoke with Hodges, she said she was a professional boxer and that the woman's face would have been "destroyed" if she had assaulted her, the complaint says. She said the woman's injuries had occurred when a pack-and-play fell on top of her.
Hodges' first appearance in court was Friday at 11 a.m.