A Bloomington man was charged with theft of a motor vehicle and assault Saturday in Dakota after being accused of stealing a car and ramming a vehicle that was attempting to stop him.
At 8:52 a.m. Saturday, police received a call from a witness on the 45000 block of County Road 12 in Dakota, who said a man, later identified as Ryan Anthony Lantz, 25, was attempting to break into one of the cars on the property.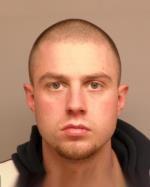 The complainant used another vehicle to block Lantz from driving off, which resulted in Lantz ramming the vehicle and fleeing, according to authorities.
The stolen vehicle was later recovered unoccupied a mile away on Interstate 90, according to the police report, and officers were informed that Lantz had been picked up by a third party and taken to a Kwik Trip in Nodine.
Officers responded to the Kwik Trip and contacted Lantz, who the complainant was able to positively identify as the person who had stolen the vehicle.
Lantz was subsequently arrested and charged with theft of a motor vehicle, two counts of assault in the second- and fifth-degree, tampering with a motor vehicle, fleeing the scene of a property damage accident and driving after suspension, which amounts to three felonies and five misdemeanors, according to police.
Police also learned that Lantz had stolen another vehicle in La Crescent before the theft in Dakota, of which he may be charged by the La Crescent Police Department.