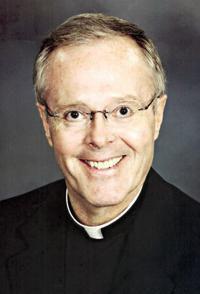 The Saint Paul-Minneapolis Archbishop has been granted authority by the Congregation of Bishops in Rome to continue investigating claims that a Crookston bishop and Winona native attempted to interfere with a sexual misconduct case.
Michael J. Hoeppner, 70, is under investigation by the church for "acts or omissions intended to interfere with or avoid civil or canonical investigations of clerical sexual misconduct." He has refused comment.
Hoeppner is the first person to be investigated under a recent Vatican protocol designed to hold Catholic higher-ups accountable for failing to protect their flocks.
You have free articles remaining.
In 2010, a reporting party was said to have come forth with allegations that a Crookston priest had sexually abused him in the early 1970s. The reporting party came forward with the allegations because of his desire to become a deacon at the church. The reporting party said he kept the allegations to himself because the priest had "groomed himself into our family," having been close friends with the victim's parents and officiating the victim's wedding. However, after being advised to consult Hoeppner of the abuse, the reporting party was told by Hoeppner not to tell anyone else about them because of the risk it would pose to the accused priest and the diocese.
Hoeppner was subsequently accused of clearing the priest for priesthood despite knowing of the allegations against him in the 1970s.
In 2015, the victim was given a non-disclosure agreement by Hoeppner, who, according to the claim, told him that not agreeing to its terms could affect his chances of becoming a deacon and jeopardize the victim's son's own priesthood.
The victim ultimately signed the document, but later discovered he had been rejected to become a deacon, leading him to opening up about the allegations.
The charges against the priest were ultimately settled in 2017, but the investigation into Hoeppner began in September 2019.
Since the onset of the investigation, Hoeppner has been called to be removed from his position by clergy sexual abuse attorney's at the law offices of Jeff Anderson & Associates, and has deferred comment to the archdiocese.
Sign up for our Crime & Courts newsletter
Get the latest in local public safety news with this weekly email.