The Winona County Court suspended the omnibus hearing for Steven Edward Miller Wednesday after the defense requested the court to order an evaluation to address competency-related issues.
Miller's next hearing has yet to be announced, but a date may appear in the court's order for the competency evaluation.
Miller, 32, is being held at the Winona County Jail on $3 million bond with no conditions for two charges of second-degree murder and one for first-degree arson.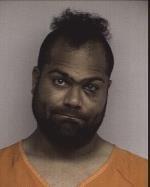 You have free articles remaining.
The charges were brought after Miller was accused of killing a Winona man early last year and subsequently setting his house on fire during what Miller calls a "rage-induced drug coma."
During the incident, Miller admitted to being high on methamphetamine and mushrooms, according to police.
Miller also faces charges of first-degree burglary and indecent exposure for a separate incident that occurred the same month as the previous charges.