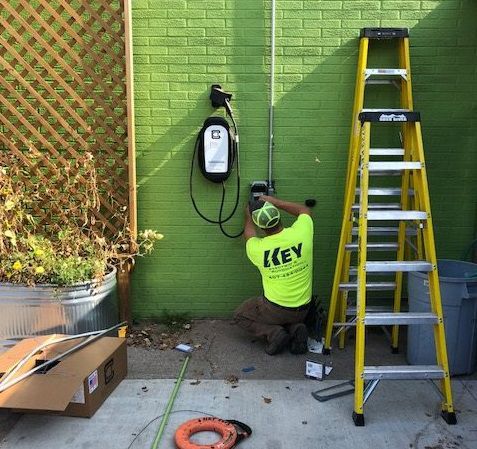 Bluff Country Co-op became the first in downtown Winona to offer free public electric vehicle charging when it unveiled its new station last Thursday.
"Our mission is to be environmental and sustainable leaders in our community," said Melissa Gordon of Bluff Country Co-op, adding that installing a charger downtown was inline with that mission. "We're always looking for ways to be more sustainable as a store."
Open during store hours (8 a.m. until 8 p.m.), the wall-mounted charger supports a wide variety of EVs and will be offered to the public at no cost. The co-op is, however, asking for a donation of $2 an hour to offset its electricity costs.
Gordon said the response so far has been surprising.
"I was a little bit surprised because so many people reached out to me," she said. "Four different folks who have electric vehicles ... called me and offered to help in anyway they could."
City sustainability coordinator John Howard said he's happy to see downtown businesses beginning to embrace electric vehicles.
"I think the co-op getting a Level 2 charger is a great step forward," he said. "It's in a pretty central location and it's certainly a big improvement over having none downtown."
Howard said until now, the only charging stations in the city have been owned and operated by the car dealerships and weren't necessarily available to the general public.
The co-op's charging station is the latest in an ongoing effort to jump start Winona's EV charging infrastructure.
Earlier this summer, the city and its neighbors in La Crescent, Wabasha, Lake City and Red Wing began drafting a joint application for a Minnesota Pollution Control Agency grant to expand the availability of charging stations along the Hwy. 61 corridor.
The cities aimed to secure funding for a number of DC fast charging stations which would have allowed EV owners to top off their rides in as little as 45 minutes.
The grant would have paid for 80 percent of the cost of the chargers — which can exceed $50,000 — when installed on public property and 60 percent when installed on private property.
The cities hit a roadblock in late July when the MPCA limited applications for DC fast chargers to four corridors. Hwy. 61 wasn't one of them.
Winona City Manager Steve Sarvi called the MPCA's decision a missed opportunity and the city later issued a letter of expressing their disappointment with the agency's decision.
While the city wasn't eligible for the MPCA's DC fast charging grant, the same limitations weren't placed on the slower level-two chargers like the one installed by the Co-op.
At roughly $5,000 a piece, these chargers are significantly less expensive than the DC fast chargers but require considerably longer to charge a vehicle — between three and four hours for most EVs, according to Howard.
He said, for this reason, Level 2 chargers are ideal for locations downtown where people have access to businesses, parks and entertainment.
The city is also considering adding EVs and hybrids to its fleet pending the results of a year-long study made possible by a $13,660 grant from Xcel Energy.
In June, the city staff outfitted 20 city vehicles with data loggers designed to provide insights into how often vehicles are used, the average distance traveled, fuel economy, time spent idling and more.
Howard said this information will help the city decide whether or not to purchase an electric or hybrid vehicle.
Earlier this year, the Elk River City Council voted to lease a Mitsubishi Outlander Hybrid and purchase a Chevrolet Bolt electric car for the municipal utility after receiving the results of a similar study.
According to Tom Sagstetter of the Elk River Municipal Utility, the cost of ownership for an electric vehicle is between $3,000 and $15,000 compared to conventional internal combustion vehicles.
Get local news delivered to your inbox!
Subscribe to our Daily Headlines newsletter.