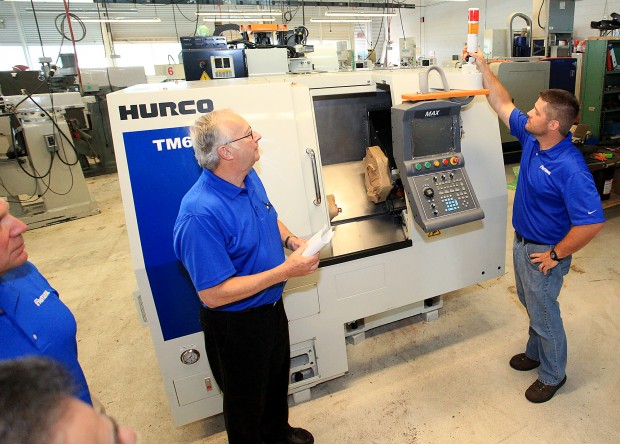 Fastenal representatives arrived Monday at the Southeast Technical airport campus bearing gifts the company hopes will deepen its relationship with the school.
At 8 a.m., cranes lifted a CNC tooling machine and two CNC lathes, collectively worth about $150,000, and set the equipment on the production floor of the campus.
The machines, which the school leases at no cost, will be used for the CNC precision machining program starting this fall.
Tim Borkowski, Fastenal's vice president for manufacturing, said the partnership will help the company recruit for its Winona manufacturing facility — "our biggest operation now," he said, and one that frequently employs Southeast Tech graduates.
Borkowski said the Winona plant manufactures more than 3,500 different products with strict tolerances for petroleum, gas and other industries.
"That requires skilled machinists who are familiar with new technologies," Borkowski said.
Southeast Tech President Jim Johnson said partnerships with businesses like Fastenal were crucial to the college's future success, particularly given recent state cuts to the Minnesota State Colleges and Universities system, which Southeast Tech is a part of.
"If we don't partner with businesses we might have to close some of our programs," he said.
He said such partnerships also boost the local economy.
"You create wealth through manufacturing," he said.
Fastenal has previously partnered with colleges and universities in South America and other countries where they have manufacturing facilities, but this is the first time that they have partnered with  Southeast Tech, said Ron Sellnau, the school's vice president of academic affairs.
Roger Holland, a Southeast Tech instructor for the CNC program, said he was hopeful the machines will be ready for the program's 15 students or so when the fall semester begins Aug. 22.