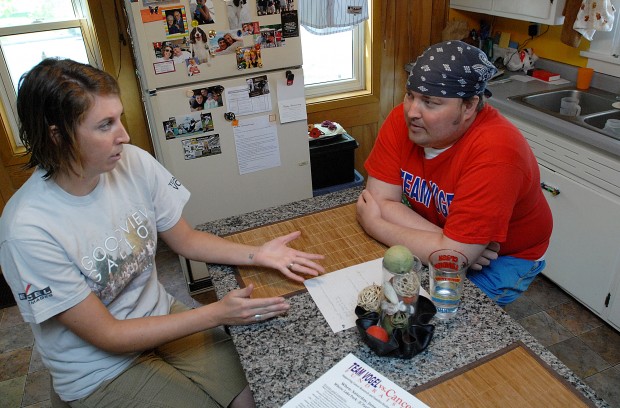 Joe Vogel became just another cancer patient when he was diagnosed in 2006.
But by the time Joe realized his was a losing battle, he had raised thousands of dollars for other cancer patients and taught an entire community how to pay it forward.
Joe died Friday. He was 32.
Joe led Team Vogel, made up of almost 300 of his friends and family, in multiple fundraising events including the Rivertown Shuffle and the Goodview Gallop.
But Joe's colon cancer spread to his brain, liver, spine and a lung. When the second round of treatment became too much, Joe decided to stop the therapy and spend the rest of his time giving support to other cancer patients who had a fighting chance.
"He was never one to dwell on the negative," his wife, Rachel, said. "He always found a way to put a positive twist on it.
He always said, 'I can choose to make the best of it. I can't choose to take the cancer away.'"
In one fundraiser, Vogel raised money to benefit six cancer patients, and more was donated to cancer research efforts at multiple hospitals.
"Even though his diagnosis was so bad ... that was the one thing he really wanted to do was to help other people," his mother, Mary, said. "To help their financial burden and let them know that people really care. He knew the strength he gained from that and was able to pay that forward."
Despite his hardships, Joe always had a joke to lighten the mood. Humor came naturally to Vogel, who as a boy once spit mashed potatoes and milk on his dad when his sister cracked a joke at the dinner table. The family still laughs at the memory.
"It was always something that you wouldn't expect," his father, Thomas, said of Joe's humor. "And then it would be so outrageous that it would make you laugh."
"I'm good!" Joe would crack, even when his fever burned at 104 degrees.
Now, whenever someone asks the family how they're doing, they smile and say the same thing.
"Although this is going to be the hardest time of our lives now, we have so many great memories," Rachel said. "And we know that he's in a good place and taking care of some people up there."
Joe's family plans to continue raising money for cancer patients, and have named Joe permanent president of his Team Vogel vs. Cancer organization.
"He always wanted to find a way to reach each person personally and individually. He always took time for every person," Rachel said. "He was such a fighter that it wasn't easy for him to let go and find peace for himself, so we promised him that we would be OK, and that we would all keep going."