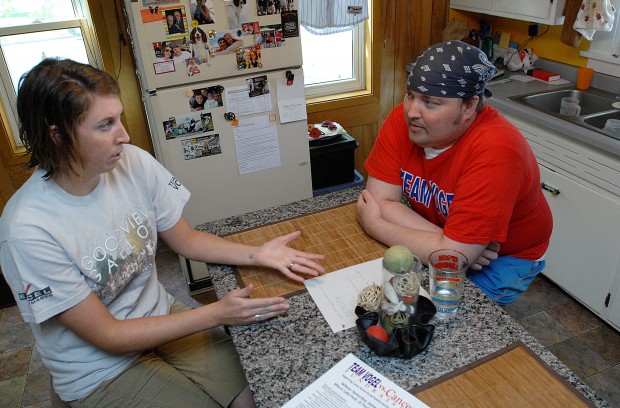 Joe Vogel wants to pay it forward. For every dollar given. For the hugs from strangers. And for every card, meal and word of hope brought to his house.
Joe, 32, was diagnosed with colon cancer in 2006. After surgery, radiation and 12 chemotherapy treatments, Joe was in the clear — until May 2009. The cancer moved to his brain, a lung, liver and spine. He started radiation and chemotherapy treatments again but stopped in February when the side effects were finally too much to bear.
Joe's friends, family and the benevolence of strangers keeps him going today. And he wants to show the same support for other families dealing with cancer in the Winona area. He and his wife, Rachel, 27, along with the rest of Team Vogel, are hosting Team Vogel vs. Cancer. The fundraiser will help financially support select families, and some money raised will go to cancer research at Mayo Clinic, Gundersen Lutheran and Fransican Skemp. The team will accept nominations through May 15 for cancer victims in need. There are 10 so far.
"If we can help put a little energy or light in someone's life, that's what this is about," Joe said. "I couldn't imagine having to go through this without the help with all the bills on the side. I needed to do something."
They don't have a goal in mind for the number of families or the amount they want to raise, but they want to make the event an annual fundraiser to give some help to a couple of people each year.
"Everyone is affected by cancer somehow," Rachel said. "You need help, and this is one thing that can relieve stress. It's not cheap having cancer."
Besides the financial help, Joe and Rachel want to give emotional support — to let cancer victims know they are not alone.
Some people ask Joe how he has stayed so strong during his multiple battles of cancer. The answer: something his dad told him. It was about a week after his first surgery in his first battle with the disease. Joe found out the cancer moved to his lymph nodes. His dad came in the room and said, "Be strong. Be positive. You are going to beat this."
It's a message Joe wants to share.
"If I can help out just a little, while I'm here, that's what I'll do," he said.