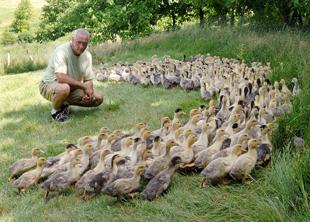 CALEDONIA, Minn. - The fuzzy yellow-and-gray-haired ducks moved in unison like a school of fish across a pasture's brushy edge in the sun to a watering trough and miniature corn cribs in the shade of giant trees.
It's the three-week-old ducks' first day outdoors, explained Christian Gasset in his soft French accent.
The Muchovy and Peking crossbred male ducks arrived from California a day old and are the first flock of the season adapting to Gasset's voice and the rolling pastures on his Au Bon Canard Foie Gras farm in rural Caledonia.
Foie gras - pronounced fwa graw - is a prized yet controversial French-style cuisine made of duck liver. Animal rights groups denounce the factory-farm style methods of raising foie gras ducks and geese, saying the animals' livers are grotesquely enlarged and that the creatures are cruelly force fed. But chefs, producers and restaurateurs say the old Egyptian custom does not hurt the fowl.
People who love it and people who loathe it agree there's no other way to make the rich and savory delicacy that costs diners no less than $20 for a 2-ounce serving. The issue is whether it hurts the ducks, and whether the government has any right telling people what they can't eat.
Chicago was the first city in the country to ban the sale of foie gras when it prohibited sales two years ago. The city lifted the ban in May. California passed a bill in 2004 that will outlaw foie gras production and sales by 2012, and several other states and cities have considered similar legislation.
French-born Gasset said the controversy is overblown.
Gasset and his wife, Liz Gibson-Gasset, moved to their 60-acre farm in Winnebago Township in 2001. It reminded Gasset of home near the Pyrenees Mountains 50 miles from Spain.
The couple met in Africa. Gasset was doing charity work for a French company, and Minneapolis-native Gibson-Gasset served in the Peace Corps. They re-evaluated life, and Gasset went to study at one of the top foie gras academies in France.
France is the largest producer and consumer of the delicacy, which has been made for about 200 years, Gasset said.
Gasset brought foie gras production to the tiny southeastern Minnesota town of Caledonia a little over four years ago. He raised and processed 8,000 ducks in that time -about 2,400 of them last year.
The U.S. has just three other foie gras duck farms - one in California and two in New York - that produce about 400 tons of foie gras a year. Gasset didn't create a market but has a niche focused on quality.
"One plant in New York processes 10,000 ducks a week. It would take me four years to do what he does in a week," Gasset said. "I want to make a quality product, not a mass product."
Gasset's first flock of about 315 ducks will be joined by batches of 350 coming every six weeks. The ducks mature in the warmth of a small barn trailer for about a week and then forage during the day in roomy paddocks over seven acres. They feast on mixed corn and soybean meal and all the grub and insects they can lay their beaks on until they are 12 weeks old.
The ducks reach about 12 pounds and then spend their last two weeks getting fattened in a cozy barn decorated by landscape paintings found at garage sales. It's this last two weeks that animal rights activists have the most beef with.
Industrial-scale foie gras producers put compressed-air tube gavages into the ducks' throats through which they are fed.
Gasset follows a centuries-old custom by lap-feeding each bird with a metal funnel-like gavage. It helps control their corn mash diet to 1 1/2 pounds a day until they reach about 15 pounds. Then the ducks are hand-processed in a separate U.S. Department of Agriculture-inspected barn at the farm.
"I don't like to say force fed, because I don't like to do that," Gasset said. "The best way to raise them is as babies so they know and trust you. I'm their mom and dad."
A good quality foie gras requires a controlled amount of corn, he said. If the gavage is used incorrectly, the ducks' livers grow and shrink and create a rubber-like texture in the foie gras. He aims for silky, buttery foie gras.
It's for that rich, silky quality that chefs around the region seek out Gasset's foie gras.
Gasset delivers his $44 a pound product to seven to 15 Twin Cities' locations every week. Three or four places have standing orders, he said. Eighty percent of his clients are Twin Cities chefs, but he supplies to Signatures in Winona, as well as a few restaurants in La Crosse, Wis., Chicago and Michigan.
"There are two kinds of chefs. The ones that don't care about price but want quality, and the chefs who want foie gras for $10 a pound and don't care where it's from," Gasset said.
Signatures executive chef Doug Dahlgren's tastes align with quality. It's that relationship between man and his animals Dahlgren said can't be replicated.
Foie gras' versatility allows Dahlgren to pair it with practically anything. He cuts slivers of foie gras torchon to make a duck jous glaze dripped over duck tenderloin. He sears foie gras for 10 seconds and serves it atop pureed pear.
"It's a gem," Dahlgren said. "Buttery, savory liver. It's hard to describe because it's something on its own - a food of the gods."
Be the first to know
Get local news delivered to your inbox!