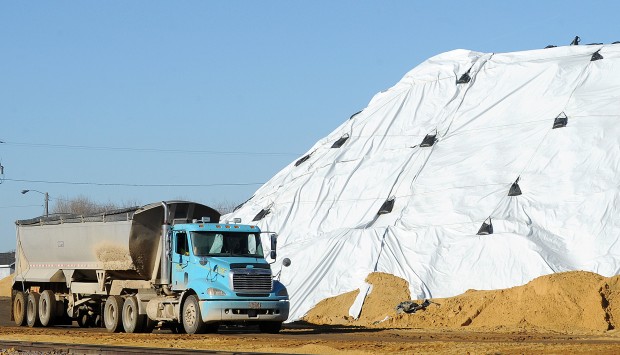 A county road designed to last 20 years may only last one or two if truck traffic increases as a result of frac sand mining in Winona County, according to county highway engineer Dave Kramer.
"This to me was very alarming," Kramer said.
Kramer gave a presentation Tuesday to the Winona County Board of Commissioners on potential road damage from trucks transporting sand as part of ongoing research into sand mining effects during the county's three-month moratorium on new mines.
Kramer said his department is primarily investigating potential congestion, safety concerns and pavement deterioration. His assessment that a road would only last a few years is based on projected truck traffic from three mines proposed in Saratoga Township. Each mine would create about 60 daily trips, and a single loaded truck on a county road causes the same amount of deterioration as 9,600 cars, according to a report Kramer presented Tuesday. An overloaded truck would be the equivalent of up to 19,000 cars, the report said.
Kramer outlined ideas for managing road repairs without passing the bill to county taxpayers. The county pays about $200,000 to reclaim a mile of road in Winona County, he said, though costs can vary widely based on road condition, materials and other factors.
One option would be an aggregate tax. Mine operators would pay a fixed rate per ton or cubic yard of sand hauled, with all revenue going toward road repairs. 
Winona County passed a tax on aggregate removal in 1982, but it is not enforced, he said.
The board approved a three-month moratorium on sand mining in early January, delaying plans for at least eight proposed mines in the county. County staff are using the time to explore issues including potential road use and damage, reclamation efforts and environmental issues related to mining projects.
Be the first to know
Get local news delivered to your inbox!