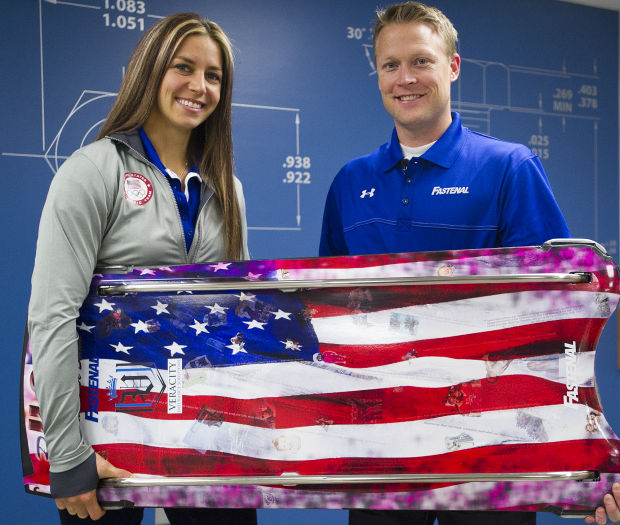 When Noelle Pikus-Pace slides down the ice at the 2014 Winter Olympics in Sochi, Russia, she'll be taking a piece of Winona with her.
The Utah-native and Olympic skeleton racer will compete at Sochi using a skeleton sled designed by her husband, Janson Pace, and manufactured and assembled by Fastenal. Janson said Fastenal was one of the few companies he felt had the knowledge and expertise to build a sled with the exacting tolerances needed to both be safe and compete at a level like the Olympics.
"Fastenal has those capabilities to check the parts and make sure they are built to spec," Janson said. "I knew they could build it the best it could be."
Fastenal sales development specialist Rory Palmer said that Fastenal was honored to help make the sled for Noelle, and that the family picked their company over other companies around the world to manufacture it. That, Palmer said, is due to Fastenal's world-class reputation.
"We like to say our manufacturing division and quality-control is world-class," he said. "It's good to have Winona involved in something world-class like the Olympics."
Skeleton as a sport is a younger sibling of bobsledding, Noelle said. The first skeleton sleds were made from the frames of bobsleds and use the same track. But in skeleton, competitors ride their sleds alone going downhill over 80 miles per hour, face-first, just inches off the ice, making the quality of the sled just that much more important for Noelle and Janson.
"Fastenal provides peace of mind that the material is of the highest standard," Janson said. "It's one more thing I don't have to worry about."
This is Noelle's second time competing at the Olympics after she broke her leg in an accident at the 2005 Winter Olympic trials. Using another Fastenal sled designed by Janson, Noelle placed fourth in 2010, just fractions of a second out of the medals.
Along with the new sled, Fastenal is sponsoring Noelle and her family at the Sochi winter games for one more try at winning an Olympic medal. Along with talent, Noelle said the technology has to be there in order to win.
"Talent only gets you so far," she said. "Your equipment gets you the rest. It's awesome knowing Fastenal is on-board to support us this year and is just another piece of the puzzle to make everything perfect."