Life hacks: 10 secret Amazon Prime benefits you may not know about
Want an iPhone for just $5 a month? Or do you need some tips for taking full advantage of your Amazon Prime account? Here's some help.
10 secret Amazon Prime benefits you may not know about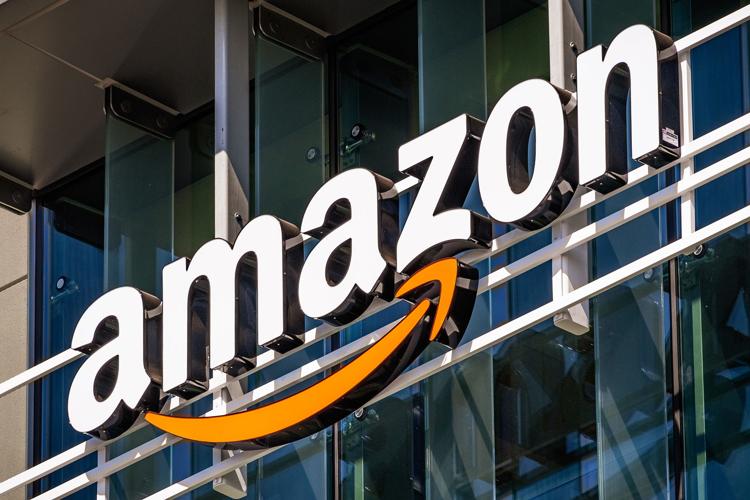 Amazon is a trendsetter in retail and delivery. The company is constantly fine-tuning and adding new benefits for Prime members, who fork over $119 a year.
But, there are so many member benefits, it can be hard to keep up.
The Seattle-based company is making a push to rapidly expand one-day delivery as it prepares to offer its holiday blitz of deals, which haven't been announced yet. Amazon says it will spend $1.5 billion on one-day shipping in the fourth quarter.
Members know they get free two-day shipping, access to shows and movies on Prime Video and 10% savings at Whole Foods Markets. But there are other freebies and ways for members to save that are not well publicized, according to Prime Insider, which lists news on new benefits, shopping tips, and deals. Bookmark it at Amazon.com/primeinsider. If you're not a member, give it a whirl for free for 30 days at Amazon.com/Prime.
1. Free one-day delivery
Amazon, the pioneer of free two-day delivery for members, is making free one-day delivery the company's new standard, to the joy of procrastinators everywhere. Customers who place orders throughout the day find packages on doorsteps by 9 p.m. the next day. This option is now available for free on 10 million items with no minimum purchase and varies by ZIP code. To see the option, filter by "Get it tomorrow" or look for the "Prime free one-day" logo or the option will be automatically selected if available at checkout.
2. Free same-day delivery
Even more amazing, residential customers can get 3 million items on the same day for free on qualifying orders of $35 in eligible ZIP codes. Order by noon and goods arrive on or before 9 p.m. Look for the "Prime free same-day" option on eligible items. Members also can now get two-hour grocery delivery from Amazon Fresh and now, Whole Foods Market. Finally Amazon Day lets members shop throughout the week and pick free delivery on the day of their choice.
3. Early sales access
Members get 30-minute early access to Amazon Lightning Deals, HoliDeals and Deals of the Day. These limited Gold Box deals offer up to 50% off a variety of products. Go to Amazon.com/gp/goldbox to shop the deals.
4. No-rush shipping bonus
If you don't need items super fast, Amazon gives you a bonus. Select "no-rush shipping" at checkout to receive on-the-spot discounts or earn rewards on future purchases for agreeing to receive orders in six business days.
5. Free shipping from WOOT
Shop on Amazon-owned deal site Woot.com with your Prime account and get free shipping. The site sells cheap refurbished electronics, housewares, clothes and more. Don't forget to check the clearance section for extra savings. By the way, WOOT is an acronym for Want One Of Those.
6. Prime Reading and Music
Members get free access to more than 1,000 digital books, audio books, magazines and comics. Titles are frequently updated at Amazon.com/primereading. Look for the logo "Read for Free," and click to download on your Kindle or with the free Kindle app. Some titles also have Audible companions so you can listen during your commute or while otherwise engaged. Also, Amazon First Reads allows Prime members a free book each month. Prime members also can try Kindle Unlimited, which usually costs $9.99 a month, for $1.99 for three months. Also, members can listen to more than 2 million songs and hundreds of hand-curated playlists and stations for free, too.
7. Prime Household
Here's a sweet deal: Household members, including kids, can share a members' Prime benefits, including video, eBooks, audiobooks, apps and games, by linking accounts at Amazon.com/households. After agreeing to share payment methods, adult keeps their personal account while sharing member benefits at no additional cost. Teens aged 13-17 year also can shop on their own. Parents approve orders via text. Household also allows sharing of Whole Foods Market benefits for one other adult and up to four teens
8. Alexa deals and skills
Get a list of savings offers by asking your Amazon assistant, "Alexa, what are your deals?" Alexa will tell you the offer, price and how much you're saving on the product. Make the most of Alexa's many talents. Find more skills the assistant can perform at Amazon.com/alexa-skills. Or, learn how to create your own custom skill at Blueprints.amazon.com.
9. Prime pets
Make a profile for fur babies and get a one-time 20% discount on your first pet food order after signing up at Amazon.com/pet. Then, you'll find more discounts with coupons. Opt into Subscribe & Save and get a 15% discount on future deliveries of not only pet food, but all your favorite items.
10. Twitch gaming
Twitch, a social video platform with millions of members, is free for Prime members. Get a Twitch channel subscription every 30 days to use on partnered channels, free games and loot. Current offers: Play Runescape for free for two weeks and get free properties in GTA Online. Go to Twitch.Amazon.com for details.
—By Doreen Christensen, Sun Sentinel
Want a new iPhone 11? Here's how to get one for $5 a month
If you desperately want a new Apple iPhone 11, but don't want to pay the hefty asking price for it, T-Mobile has a hot deal for new customers.
Trade in a working iPhone (XS, XS MAX, XR, X, 8, 8 Plus, 7, 7 Plus, 6s, 6s Plus) and finance a new iPhone 11 for just $5 a month for 24 months. The offer for $580 in credits per a new device is good for porting up to four lines with credit approval. Switching also may include SIM card and upgrade support fees for each line.
The carrier's unlimited plans start at $30 per month with auto pay discounts. Best of all, the service price include all taxes and fees.
Apple's latest 64 GB iPhone 11 costs $699 and has a new dual-camera system, a 6.1 Liquid Retina Display and up to 17 hours of battery life. It's also water-resistant to a depth of 2 meters for up to 30 minutes.
—By Doreen Christensen, Sun Sentinel
Glam holiday décor that gets the party started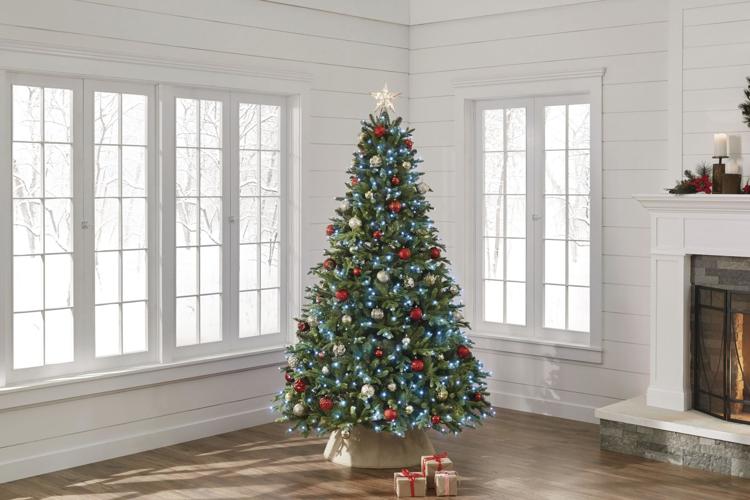 Had enough of all that serene winter wonderland decor, the birch trees and reindeer and sleighs? Ready to change it up this year and boogie down?
Then consider digging out the legwarmers and Donna Summer CDs before you start decorating.
British retailer John Lewis, known for Christmas décor and evocative holiday commercials, has declared "Party" to be one of the big themes for 2019. Flamingo, cassette tape and balloon animal ornaments join holographic ribbon bows and sequined tassels in their collection.
Home Depot's trend and design director Sarah Fishburne sees the look as a twist on vintage holiday décor.
"Christmas is about embracing the over-the-top, and no other era says over the top like the '80s," she says. "We're seeing a resurgence of flocked trees and larger, multi-color light strands. To incorporate the iconic retro vibe, think about a bright, rainbow palette and layering metallics across ornaments, trees and tabletop décor."
Etsy's trend expert Dayna Isom Johnson echoes the call for color: "One of the biggest trends on the rise is using neon tones to deck the halls, a bright look inspired by city lights and billboards."
What's great about the glam look is that you can have fun decorating with it regardless of how you celebrate the season. Just bear in mind that you're aiming for Dance Floor rather than North Pole, so forgo any rustic cabins or woodsy red-and-green plaids.
Home Depot's Twinkly 600-light, 7.5-foot-tall Swiss Mountain tree lets you use an app to program whatever colored-light gymnastics you'd like. And for the front of the house, there are multicolored laser lights that project eight holographic moving patterns like swirls, fireflies and starbursts.
Turn a traditional green tree into a playful decorative element by adding several strings of hot pink or purple lights; Walmart and Target have options in mini and regular sizes.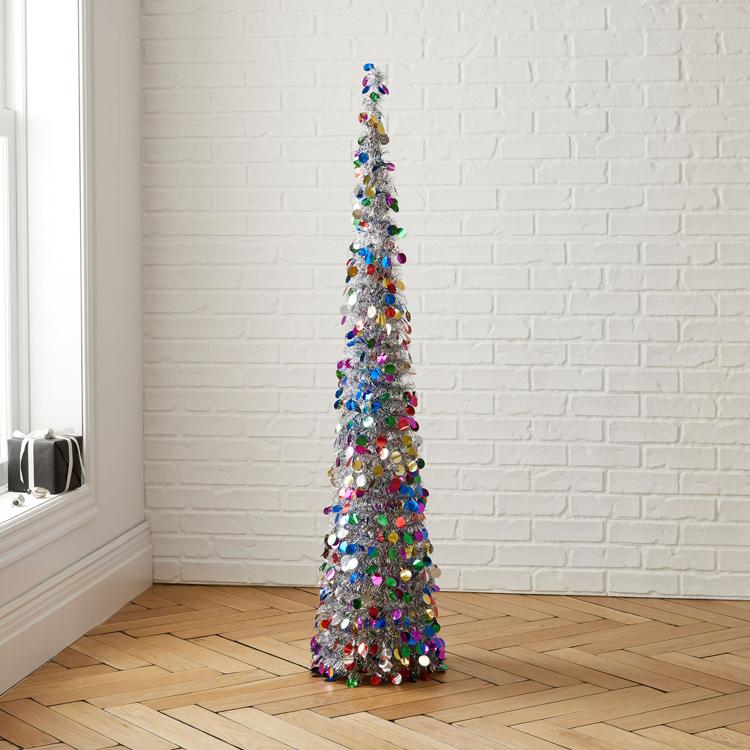 For a small living space or entryway, check out West Elm's slim pop-up cone tree, which is enrobed in silver tinsel and trimmed with multicolored metallic dots. If you've got a little more room, go with one of their bushy gold or blush pink tinsel trees. You'll find pretty glitter-encrusted, mirrored glass, and gilded-beads ball ornaments here, as well as glass rainbow and confetti balls.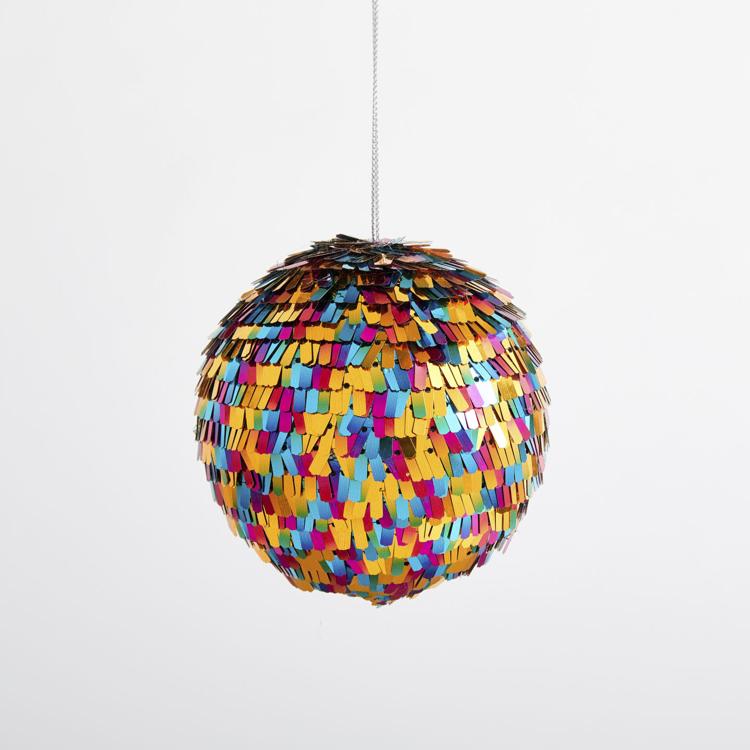 Target has mini champagne bottle and glass ornaments to set the festive tone. And there are boxed sets of mirrored glass disco-ball ornaments in loads of colors.
Feeling crafty? Consider making your own party tree by hot-gluing those shiny ornaments onto a tree-shaped wire frame, available at big-box craft stores. Or make a jazzy wreath out of them, using a circular wire frame. String mini versions onto satin ribbons, or use sparkly black ornaments on hot pink, lime or candy-red ribbon.
Neon-bright paper, felt and crocheted ornaments and garlands can be found on Etsy.com.
At Pier 1, there are sparkly teal, champagne or pink glitter-encrusted curly picks and red faux-fur pompon picks — party favors for the tree. Also here, pretty pink flamingo ornaments with glitter-encrusted beaks and real feather wings. And at White Company, there are snowy, white-feathered bauble ornaments.
Cassette tape and '80s cell phone ornaments can be found at the Ornament Shop, and personalized if desired.
Smoked-glass balls filled with dark sequins, inky wood garlands, cheetah- and leopard-print ornaments, and glass balls that look like black marble all add evening drama to CB2's holiday collection.
Dress up the base of your tree in Horchow's satiny pink faux-jewel-encrusted tree skirt, or perhaps a ruffled, multicolored one that seems to say, "You should be dancing."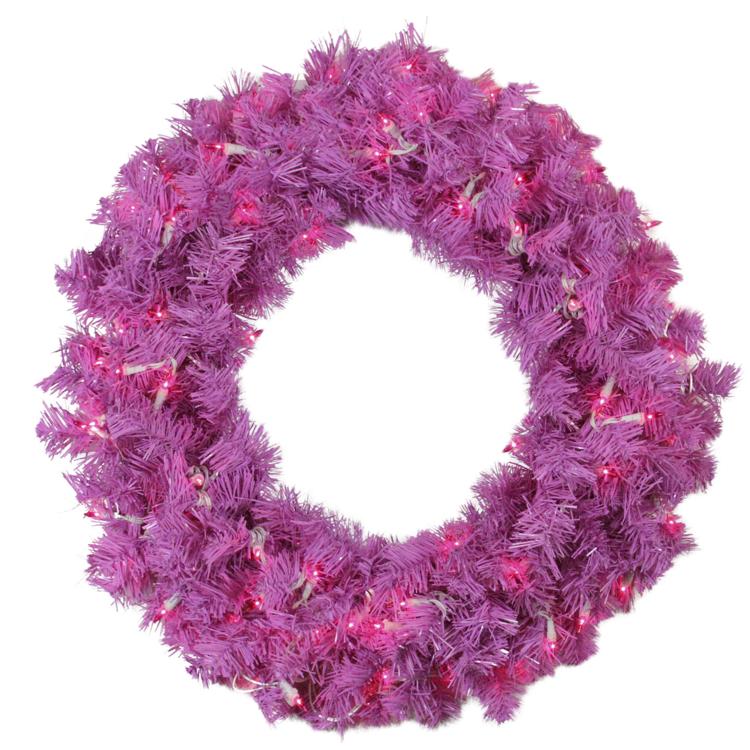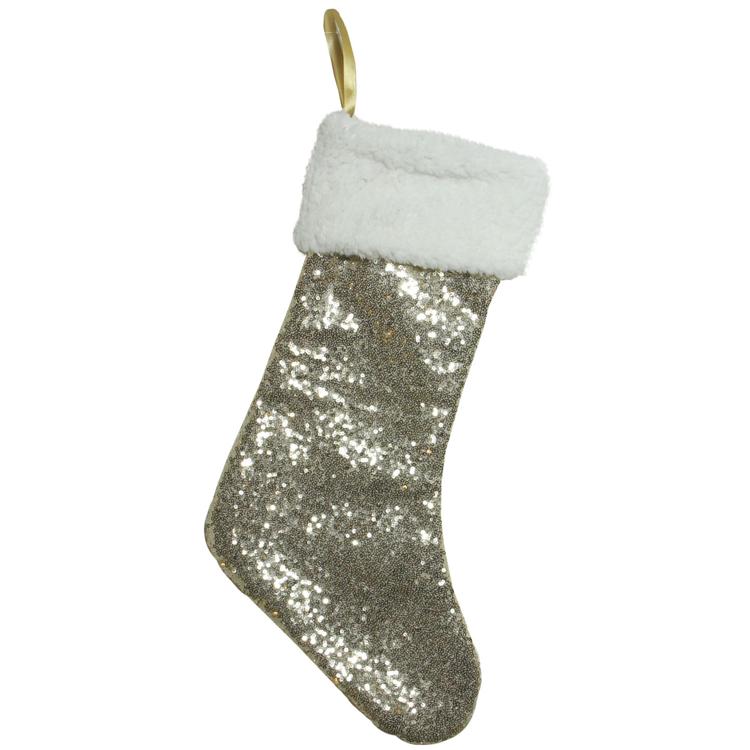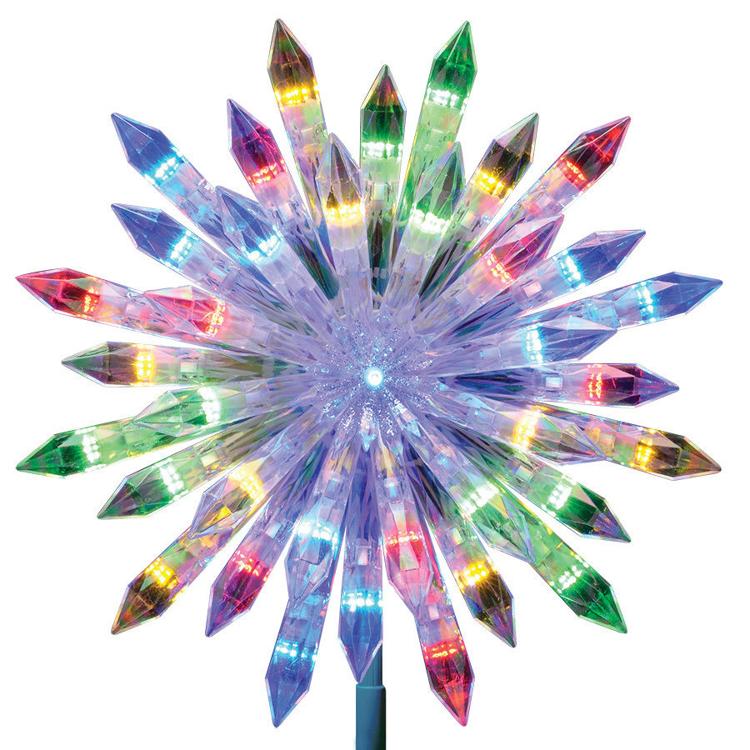 —By KIM COOK, Associated Press