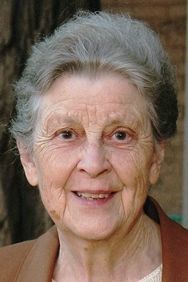 ROCHESTER, Minn. — Sister Mary Lonan Reilly, 93, a Franciscan Sister of the Congregation of Our Lady of Lourdes, Rochester, died at Assisi Heights Tuesday, Oct. 8, 2019.
Mary Gladys Reilly was born Feb. 8, 1926, in Alvord, Iowa, to Bernard and Mary (O'Meara) Reilly. She entered the Sisters of St. Francis in 1946, from Saint Martin Parish Huron, S.D. Sister Mary Lonan made first vows in 1949 and perpetual vows in 1952. She received a bachelor's degree in history from the College of St. Teresa, Winona, in 1969. She attended Notre Dame University, where she received a master's degree in history (1965) and a Ph.D. in history (1970).
Sister Mary Lonan taught in several Catholic Schools in the Diocese of Winona: St. Augustine, Austin; Cathedral School, Winona; St. Mary, Caledonia; Our Lady of Good Counsel, Wilmont, and Cotter High School, Winona. She also taught four years at St. Juliana School, Chicago. After completing her Ph.D. she served 11 years as history professor at the College of St. Teresa, Winona, and then as executive assistant to the president of CST for six years. From 1987 to 1994, she served as academic dean at Rivier College, Nashua, N.H.
Sister Mary Lonan is survived by her Franciscan Congregation, with whom she shared life for 73 years; and several nieces, nephews and cousins. She was preceded in death by her parents; brothers, James, Earl and Matthew Reilly; and sisters, Rose Norquist, and Sister Marcella Reilly, OSF.
The Funeral Mass will be at 11 a.m. Monday, Oct. 14, in Our Lady of Lourdes Chapel at Assisi Heights. Visitation one hour prior. A vigil service will be held at 4 p.m. Sunday, Oct. 13. Burial will be at Calvary Cemetery, Rochester.
Memorials are suggested to the Sisters of St. Francis, Office of Mission Advancement, Assisi Heights, 1001 14th St. NW, Suite 100, Rochester, Minn., 55901.
Obituaries Newsletter
Sign up to get the most recent local obituaries delivered to your inbox.