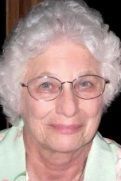 Rose Marie Bronk was born Sept. 1, 1928, in Winona and passed away Wednesday, Dec. 9, 2020, in Carmichael, Calif.
Rose Marie is predeceased by her parents, August and Florence Jereczek; husband, Paul Bronk; and sister, Donna Boberg. She is survived by her sister, Dorothy Herber, sister, Marianne Goree; and brother, James Jereczek. She also is survived by her children, Beverly Martin, Ruth Boling, Teresa Perko, Donald Bronk, Ronald Bronk, Carol Bronk, Joseph Bronk, Margaret Stanton, George Bronk, and Elizabeth Walsh; and many, many, grandchildren; and great-grandchildren.
A viewing, limited to 10 people or less due to COVID-19 restrictions, was held from 11:30 a.m. to 12:30 p.m. Friday, Dec. 18, at Price Funeral Chapel, 6335 Sunrise Blvd., Citrus Heights, Calif., 916-725-2109. Interment followed at Fair Oaks Cemetery, 7780 Olive St., Fair Oaks, Calif.