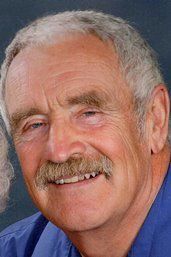 Robert C. Hardie, 82, a longtime dairy farmer in rural Taylor, died Saturday, July 4, 2020, at his town of Franklin home.
Bob was born Dec. 15, 1937, in La Crosse, to Keith and Cecile Hardie. He grew up in the town of Franklin, where he attended a one-room schoolhouse. He graduated from Melrose High School, where he was the captain of the school's inaugural football team. He also played basketball and baseball. He spent summers working on his Uncle Vilas Steine's farm.
Bob graduated with a mining engineer degree from the Platteville Mining and Engineering School. He met his future wife, Marcia Anklam of Highland, Wis., who attended the Platteville Teacher's school. The couple married Aug. 29, 1959, in Muscoda, Wis.
The couple lived in Bethlehem, Pa., for three years where Bob worked as a mining engineer. They moved to Hales Corners, Wis., in 1963 when Bob worked for Nordberg Manufacturing in Milwaukee. In 1970 they moved to the homestead farm in the town of Franklin and began dairy farming with Bob's uncle and aunt Leland and Sara Clair, on the farm started by Bob's grandparents, Ray and Hilda Hardie.
Bob and Marcia expanded and improved the dairy herd with investments in purebred Holsteins. They also taught their two sons and many nephews and cousins the value of a hard day's work.
Bob served as school board member for the Melrose-Mindoro School District for 39 years, many of those as president. He also was active in various farming organizations and never missed a deer hunting season in 70 years.
Bob is survived by his wife, Marcia; sons, Kevin (Kathryn) Hardie of Blair; Chris (Sherry) Hardie of Taylor; five grandchildren, Matthew (Jenni) Hardie of Oakdale, Minn., Nicholas (fiancée, Danielle Chu) Hardie of New York, Rachel (Josh) Ranney of Chippewa Falls, Jessica (Josh) Benrud of Onalaska, Ross (Lucy) Hardie of Chetek; and seven great-grandchildren. He is also survived by two sisters, Diane Kraemer of Ettrick, Margaret (Russ) Young of Merrillan; brother-in-law, Robert Kraemer of Ettrick; and numerous nieces and nephews.
Grandchildren will serve as pallbearers.
He was preceded in death by his parents; an infant son, Eric; and his sister and brother-in-law, Annette and Stanley Jungck.
Funeral services will be at 1 p.m. Thursday, July 9, at the Brambleberry Winery Grand Pavilion, N3684 Claire Road, Taylor, with the Rev. Adam Arends officiating. Seating will be appropriately spaced for Covid-19 physical distancing. Those who are comfortable wearing face masks should do so.
Visitation will begin at 11 a.m. Burial will be in the North Beaver Creek Lutheran Church (white building) cemetery following the services. Lunch will be served at Brambleberry after burial.
The Kratz Funeral Home of Portage is assisting with the services. Memorials may be directed to North Beaver Creek Lutheran Church.
Bob will be forever remembered for his legendary strength, his analytical thought process, his deep, booming voice and the world's kindest heart, which melted whenever he spent time with his grandchildren and great-grandchildren.
Obituaries Newsletter
Sign up to get the most recent local obituaries delivered to your inbox.