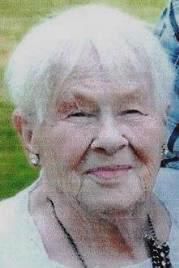 Mary Josephine Cochenour, 87, of Winona passed away Sunday, Dec. 29, 2019, at the Mayo Clinic Hospital—St. Mary's Campus in Rochester, Minn.
She was born June 9, 1932, in Winona, to Leon and Lillian (Brom) Bronk Jr. Mary was united in marriage with Glen S. Cochenour June 6, 1951, in Winona and he preceded her in death July 26, 2018. Glen honorably served his country in the U.S. Army, retiring as a First Lieutenant, and was the recipient of a Bronze Star and a Silver Star. Mary was always very proud of Glen's service to his country.
Prior to her retirement, Mary was employed as a dietician at Sauer Memorial Home in Winona. Mary was a member of St. Mary's Catholic Church in Winona and she had a deep devotion to her faith.
You have free articles remaining.
She will be remembered as an amazing cook, who loved to dance and listen to music, as long as it was good ol' country! Mary had a spunky and sassy attitude, a twinkle in her eye and always wore cute little outfits. She also enjoyed flower gardening and she had a way and love of animals. Mary had a big heart and opened her home to anyone that needed help—she left an impression on everyone she met. She will be deeply missed by all those who knew and loved her.
Mary is survived by her son, Mike (Sandy) Cochenour; daughter; Mary Katherine (Ricky Sr.) Popp; grandchildren, Craig, Amy, Christina, Matthew, Christopher and Andrew; great-grandchildren, Gale, Taylor, Marissa, Ryan, Reese, Emma, Liam, Tiffany, Evangeline, with two more on the way; a great-great-grandchild, Alexis; a brother, David (Linda) Bronk; special friends, Sherry and Debbie; as well as other relatives and friends. She was preceded in death by her husband; parents; a grandson, Ricky Popp Jr.; and brothers, Paul, Gerald and Daniel Bronk.
Visitation will be held from 5 p.m. until 8 p.m. Thursday, Jan. 2, 2020, at the Watkowski-Mulyck Funeral Home, where the Recitation of the Most Holy Rosary will be held at 7:30 p.m. A Mass of Christian Burial will be offered at noon Friday, Jan. 3, 2020, at St. Mary's Catholic Church in Winona. Father Michael Cronin will officiate. There will not be any visitation held Friday, please meet at the church for Mass. Mary will be laid to rest in St. Mary's Cemetery.