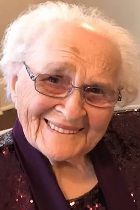 Marcile Lydia (Heck) Knospe died Wednesday, July 15, 2020, days before what would have been her 100th birthday. Marcile was born July 31, 1920, to Adolph and Anna (Bollinger) Heck, and grew up on a farm in the town of Canton, Buffalo County, Wis. She was baptized at St. Paul's Lutheran Church, Canton, Aug. 15, 1920, and confirmed there July 1, 1934. Following graduation from Mondovi High School in 1937, Marcile moved to Alma, working first in support of the Agricultural Adjustment Act (AAA), and later as Deputy County Clerk of Buffalo County. She lived with a friend in an apartment on South Second Street, in the home of Elsbeth Alleman, whose devoted nephew, Orvin Oliver Knospe, soon began courting Marcile.
Marcile and Orvin were married June 17, 1944, at Canton, and this union was blessed with three daughters, Marilyn (Duane) Jonas, Marvis Ann Knospe (Michael Harper), and Renae (Gordon) Dierauer. Marcile and Orvin farmed on the Alma Bluff, living on acreage homesteaded by Orvin's grandfather, until 1973, when the couple built and moved to a house on South Second Street in Alma. Following Orvin's death in 1980, Marcile continued to live in the home she loved, enjoying her view of sunsets over the Mississippi River, trains, barges, riverboats, and eagles. During her later years in Alma, she was supported by a wide network of kind and loving friends. In November 2019, she moved to Apple Valley, near daughter, Renae.
Marcile was an active volunteer at the Alma Nutrition Site and an enthusiastic member of the Alma Birthday Card Club. In addition to playing all variety of cards and board games, she enjoyed assembling 1000-piece jigsaw puzzles, solving Sudoku and crossword puzzles, watching Jeopardy and Wheel of Fortune, and following baseball. Marcile loved attending AAL Conventions with Orvin, in locations across the country, including Pittsburgh, Atlanta, Nashville, New Orleans, and her favorite, Hawaii. She was devoted to her family, traveling as far as Boston and New York, to celebrate grandsons' graduations, and to Iowa, at the age of 99, to attend her granddaughter's wedding. Her home, over the years, was the site of many, many happy gatherings of family and friends.
A longtime member of Zion Lutheran Church, Cream, Wis., Marcile taught Sunday school, sang soprano in the choir, and participated actively in Ladies Aid. When Zion closed in 2012, Marcile joined Christ Lutheran Church, Cochrane, where she was a member at the time of her death.
In addition to her three daughters and their husbands, Marcile is survived by four grandchildren, Oliver Harper (Clare Ros), Nicholas Skelly Harper (Jane Doctoroff), Ursula (Dylan) Heuer, and Peter Dierauer; three stepgrandchildren, Kevin (Rhonda) Jonas, Nancee (Mark) Prchal, and Kris (Tom) Lilledahl; five stepgreat-grandchildren, Ben (Brittney) Prchal, Abbie (Coleton) Thiemann, Derek and Corey Lilledahl, and Jericah (Dylan) Holes; three stepgreat-great-grandchildren, Knox and Kai Thiemann, and Lincoln Holes; along with many other relatives and friends. In addition to her husband, Orvin, Marcile was preceded in death by her parents; sister, Veronica; and brothers, Werner and Loren.
Private graveside service at Zion Lutheran Church Cemetery, Cream. Talbot Family Funeral Home is assisting the family with arrangements.
In lieu of flowers, memorials may be made to Buffalo County Food Pantry, PO Box 84, Alma, WI 54610; Christ Lutheran Church, Cochrane; WELS; Hereditary Neuropathy Foundation, 401 Park Avenue, South, 10th Floor, N.Y., 10016; or charity of choice.
Obituaries Newsletter
Sign up to get the most recent local obituaries delivered to your inbox.