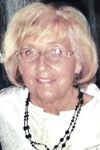 Mae Elizabeth Shortridge, 92, passed away peacefully Thursday, Dec. 24, 2020, after a long and full life due to complications from a series of strokes. Born in Winona Aug. 25, 1928, to John and Florence Kleist. Mae was a lifelong Winona resident until relocating to Edina, Minn. in 2010 to live with her daughter, Sally.
In addition, to her daughter, she is survived by sons, Peter (Amy) and Pat (Christi); grandchildren, Nathan, Lara, Ryan, Matt, Giulia, Anna, Patrick, and Jack; great-grandchildren, Isaac, Asa, Henry, Max, and Sylvia; nephew, Peter Bremer (Siobhan).
She was proceeded in death by her husband, Pat; her parents; and sister, Carol.
Mae had a terrific life. She was half of a loving husband-wife partnership that was sadly cut short, was a professional woman and working mom long before those things received such widespread societal notice, and was never reticent about speaking her mind, offering thoughts with candor, leaving the listener no doubt what she thought or where she stood.
For decades she managed the restaurant and bar operation of the Winona Country Club, alongside her husband, Pat, the golf professional. Mae had a gift for hospitality that made her uniquely suited to the role, welcoming generations of members and guests and orchestrating countless memorable events, parties, weddings.
Through these years at the Country Club, Mae developed a wide variety of life-long friendships; she treasured those relationships and the experiences that accompanied them. Until her final weeks, she was fond of calling those friends, young and old, to check in and make sure they were healthy and happy.
She retired from the Country Club after 30 years in the early 1990's and, never one to remain idle, began work for her good friend, Fran Edstrom, at the Winona Post as a copy editor until she finally retired in 2010.
For years Mae and Pat split their time between Winona and Pat's winter job at a golf club in Palm Beach, Fla. There Mae developed her lifelong love of the beach, the ocean, and long days in the sun, miraculously avoiding skin cancer despite spending from morning til night baking in the Florida sun.
Working long hours for most of her career, in retirement she lived life on her terms. She enjoyed traveling with family—weeks or months in the Washington, D.C. area with Pat's family to help with a new grandchild and explore the area; Italy with Peter, Sally, and Amy; the UK to see dear friends, the Pendletons; regular visits to Sanibel Island for beach time away from Minnesota winter.
In addition to her hours tanning, she enjoyed a daily routine not necessarily associated with the quest for long life. It was an inside-the-family joke that her longevity was attributable to Diet Coke, Peanut M&M's, and a more than occasional cigarette.
It is certainly more than coincidence that Mae passed on Christmas Eve, her favorite day of the year. She was unfailingly generous, without question the best and most joyful gift giver, and at no time was this more evident than at Christmas, as her grandchildren can well attest. She gave of herself her entire life and took particular delight in the happiness and success of her family and many friends.
In addition to family and friends, Mae's other great passion was reading. Until her final days, she read at least one book a week for the majority of her life. In fact, it's possible her book purchases may have single-handedly kept the publishing industry afloat at a time when fewer people buy books of the old fashioned paper variety.
Given her love of reading and books, please dedicate any memorials to the Friends of the Winona Public Library "Imagination Library" initiative.
A celebration of Mae's life will be held in Winona sometime in the summer when gatherings are again possible. Mae loved a good party and will be sorry to miss this one, which will without question send her off in the manner she would expect.