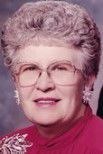 Elaine Fetting was born July 31, 1928, in Schoepps Valley, Wis. She went to meet Jesus Tuesday, Dec. 15, 2020, with family at her side. Elaine was the daughter of George and Elsie (Putz) Hilgert, and was the third of their five daughters. After graduation from Cochrane High School in 1946, Elaine worked at Watkins, until Nov. 6, 1948, when she married Wilbert Fetting. They were dairy farmers on the Belvedere Ridge, being the third generation on the farm. After retiring from the farm in 1994, they moved to Buffalo City.
Elaine was a member of Christ Lutheran Church, Cochrane, where she had been a choir member at one time. She played accordion, and in her younger years she would play with the family band at weddings and such events. Bowling was an enjoyable pastime for Elaine and Wilbert, as they each bowled in leagues and on a couples league. Elaine was interested in the music and sports that the grandkids and great-grandkids were involved in at school. She enjoyed the family gatherings and especially seeing the little ones. Elaine was an avid Packers fan. She enjoyed the bingo games at St. Anne's.
Elaine and Wilbert were blessed with four children, Diane (Alan) Zimmerman, Merrill, David W. (Linda) Fetting, Cochrane, Mark (Sue) Fetting, Alma, and Michele Fetting, Dodge. She is further survived by 12 grandchildren; and 18 great-grandchildren; brother-in-law, Darwin (Shirley) Fetting, Cochrane; and many nieces and nephews. Elaine is preceded in death by Wilbert in 2006; her parents; and sisters and their husbands, Doris (Irvin) Hohmann, Bernice (Joe) Baker, Ruby (Howard) Hansen, and Geraldine (Carl) Palenske.
A private funeral service was held at Christ Lutheran Church in Cochrane, with Pastor Wilde as officiant. The service may be viewed later online.
Interment will be at the Buffalo City Cemetery. A celebration of Elaine's life will be held at a later date. A memorial fund is being established in the name of Elaine Fetting. Please direct your memorial to Michele Fetting, P.O. Box 37, Dodge, Wis., 54625.
Elaine's family would like to take this opportunity to express a heartfelt thank you to the entire staff of St. Anne's-Benedictine, especially Moses, for doing the Christmas lights and Karen, her "Chip and Dale" nurse, for the loving care given Elaine in the past few years.
To send flowers or a memorial gift to the family of Elaine Fetting please visit our Sympathy Store.