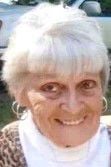 KELLOGG — Betty Jane Rick, 75 of Kellogg passed away Friday, Dec. 18, 2020, at her home surrounded by her family.
Betty was born Oct. 9, 1945, in Wabasha, to Paul and Lillian (Fimian) Haley. She graduated from Kellogg High School, Kellogg, Minn. On Feb. 27, 1965, she married LeRoy Rick and together they raised their two children, Scott and Tamara. LeRoy preceded her in death Dec. 8, 2015.
Betty wore many hats over the years. She was a telephone operator in Minneapolis, she became a house cleaner for people in the area, and this allowed her to be a stay at home mom and take care of her children. Then, for over 20 years, she worked at the Kellogg Municipal Liquor Store. Betty then worked for Covidien in Wabasha, until 2010. She loved to browse garage sales, drive her dune buggy, attend the Sturgis Motorcycle Rally (with her last one being 2017), the many "Hat" parades, making numerous trips to Treasure Island Casino. She loved her dog, Josie, very much. Betty collected toy clown figurines; she also loved and collected anything Elvis. The summer, Betty loved to fish and go morel mushroom hunting. The winter, Betty enjoyed puzzles, card tricks and playing Yahtzee with whoever came over. Betty loved the Kellogg Watermelon Festival and Halloween. She enjoyed all things with these events, including the activities and dressing up.
She is survived by her son, Scott (Ilona) Rick, Kellogg; her daughter, Tamara (Pete) Nyseth, Kellogg; two grandchildren, Nicole Rick and Dustin Franke; stepgrandchildren, Zach and Shawn Nyseth; her dog, Josie; and many special friends.
She was preceded in death by her parents; husband; a sister, Bridget Thatcher; two brothers, Jerry Haley and Edward "Sonny" Haley; and a stepbrother, Marion Haley.
The visitation will be 3 to 5 p.m. today, Sunday, Dec. 20, at the Abbott Funeral Home, Wabasha.
The funeral service will be 10:30 a.m. Monday, Dec. 21, at the Abbott Funeral Home. Interment will be at St. Felix Cemetery, Wabasha.
Casket bearers will be Scott Rick, Pete Nyseth, Ken Haley, Bob Winkler, John Kruger, and Ed Hall.
Services entrusted to Abbott Funeral Home & Crematory, Wabasha. Words of sympathy or remembrance may be left at www.abbottfh.com.