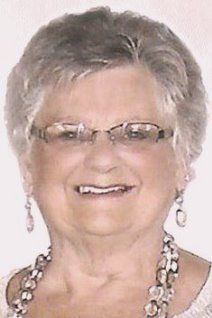 Audrey Gail (Balthazor) Deblon died Wednesday, Jan. 18, 2020, at Lake Winona Manor in Winona. She was born in Fargo, N.D., Aug. 5, 1933, to Willard Balthazor and Lenore (Halberg) Balthazor.
She grew up in Watertown, S.D. and graduated from Watertown High School in 1951. Audrey married her childhood sweetheart, Henry Deblon Jr. Jan. 17, 1953. Shortly after, they moved to Austin, Minn., where they raised their children. Audrey worked at Red Owl Grocery Store in Austin for 15 years.
In 1979 Henry's job moved them to Winona. Audrey went to work at Ted Meier Drug in Winona until she was able to fulfil her life-long dream of becoming a Registered Nurse. In 1981, after her youngest child graduated from high school, she enrolled in Southeast Technical College in Winona. She received her LPN degree at Southeast Technical College in 1982 and started working as an LPN at Winona Health in Winona, while continuing on to get her RN degree from Western Technical College in La Crosse, Wis. in 1986 at the age of 53. She worked her entire career at Winona Health, something she was extremely proud of, and retired after 20 years at the age of 70.
She was adventurous, never afraid to try something new and earned the loving title "Sergeant Aud" because of her feisty demeanor. Her curiosity took her all over the world and led her to learn everything from woodworking to oil painting to playing the harp. Audrey made an impact on every person she crossed paths with. She was a friend, a confidante and a mentor to people of all ages, and many considered her family.
Audrey is survived by a son, Joe (Carlene) Deblon, of Austin; a daughter, Julie (Mike) Biggerstaff, of Winona; grandsons, Jared (Robin) Sanvick, of Austin and Riley (fiance Callie Seylar) Deblon, of Des Moines, Iowa; granddaughter, Sarah (AJ) Scherbring, of Minnetonka, Minn.; great-grandsons, Logan Sanvick, Owen Scherbring and Alex Scherbring; sister, Billie (Bill) Lekvold of San Diego, Calif.; and many loving nieces and nephews.
Audrey is preceded in death by her husband of almost 61 years, Henry; and three children, Tracy (died 1992), Kim (died 1995) and Jeff (died 2005). Audrey will also be united with three infants whom she never had a chance to meet who are buried in Austin.
In lieu of flowers, the family has established the Audrey G. Deblon Scholarship for non-traditional nursing students at Western Technical College Foundation, 400 7th Street, N., La Crosse, Wis. 54601. Donations may also be directed to Winona Health Hospice.
Funeral Mass will be 11 a.m. Saturday, Jan. 25, at St. Mary's Catholic Church, Winona, with the Reverend Michael Cronin officiating. Interment will be at St. Mary's Cemetery, Winona.
Visitation will be from 9 to 11 a.m. Saturday, at the Visitation Commons of St. Mary's Church.
Services entrusted to Fawcett Junker Funeral Home and Crematory, Winona and Fountain City, Wis. Words of sympathy and remembrance can be given at www.fawcett-junkerfuneralhome.com.
Obituaries Newsletter
Sign up to get the most recent local obituaries delivered to your inbox.