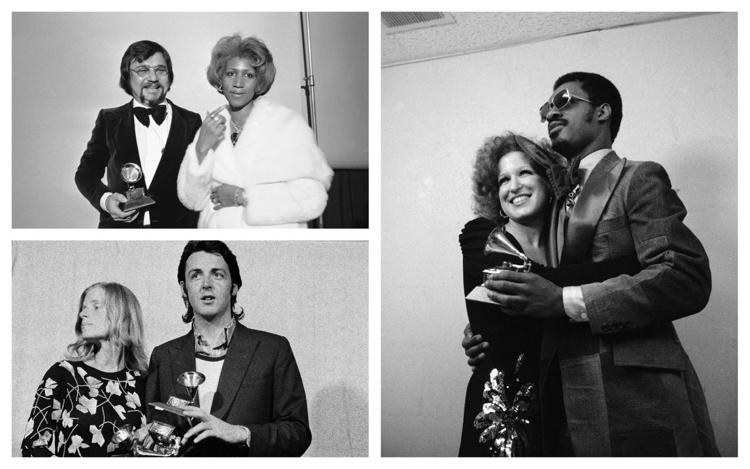 On May 4, 1959, Frank Sinatra, Sammy Davis Jr., Gene Autry and other musical luminaries sat down to formal dinners and golden statues in Los Angeles and New York simultaneously for the very first Grammy Awards.
"As I recall, no one objected to dressing black-tie back then, though like so much else, that would change eventually," said Christine Farnon, who helped organize the first presentation and became executive vice president of the Recording Academy, in a short history on the Grammy website.
Change Grammy fashion did, evolving slowly over 60 shows into the wildest and wackiest red carpet of the awards season. By 1974, Cher's navel was out, as good a barometer as any.
In the early years, tuxedoes and traditional evening gowns prevailed. David Bowie helped shake things up, simply by being David Bowie, in his orange hair phase. Liberace and Aretha Franklin added sparkle. Bette Midler once wore a .45 record album in her hair. Dolly Parton showed up decades ago in a bright pink pantsuit, before bright pink pantsuits were mild compared to what came later.
In those simpler times, through the '60s and '70s, there was a whole lot of great big hair. There were Nehru collars, Beatles in caps and Isaac Hayes boldly bringing it in huge bedazzled caftans. By the '80s, anything went and there was a glitter glove on one of Michael Jackson's hands.
"When you compare it to other awards shows, you never know what you're going to get at the Grammy Awards," said Nwaka Onwusa, curator of the Grammy Museum in Los Angeles. "It's great that in music, everyone can be welcome no matter what you're wearing. It doesn't have to be that tuxedo black tie situation all the time. Music has no boundaries and that's the cool thing about it."
A glance at some outrageous fashion moments at the Grammys: