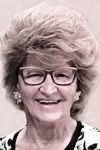 CALEDONIA — Lucille Anne (Miller) Petersen, 84, of Caledonia went home to be with her loving Savior, Jesus, Tuesday, March 2, 2021.
She was born March 28, 1936, the daughter of John and Emma (Lehmann) Miller. Lucille and her beloved husband of 66 years, John Nickoli Petersen, bought and moved to the Miller family farm when they were married, Aug. 31, 1954.
Lucille was an amazing lady, a classy lady, who loved to talk on the phone, smile, laugh and just make people feel good about themselves.
Lucille and John loved to dance and play cards. They knew how to work hard and play hard. Lucille loved the Lord and you would see her at church multiple times a week attending Mass, helping with funeral luncheons and, before Covid, straightening the song books and missalettes. Lucille was a member of St. Mary's Parish in Caledonia, its Council of Catholic Women, and the Catholic Daughters of America.
Lucille's ministry was with the elderly. She loved playing cards and eating with her friends at senior dining. She loved to swing by and say hello to a friend or drop off a card or a piece of dessert, even if it meant seeing them only through a window this past year.
Lucille was an amazing wife, mother, grandmother, great-grandmother, sister, aunt, and friend! She worked alongside John for 61 years, on behalf of hundreds of farmers through the NFO (National Farmers Organization).
Lucille is survived by her husband, John; seven children, Cindy (Larry) Becker of Brownsville, Joan (Tony) Von Arx and Don (Sandy) Petersen of Hokah, Ron (Karen) Petersen of La Crescent, Rob (Kory Marquez) Petersen of San Diego, Calif., Bill (Jodi) Petersen of La Crescent, and Sandee (Jeff) Lehmann of Oregon, Wis.; grandchildren, Dan (Michelle) Reinhart, David (Dawn) Reinhart, Jenny (Brent) Schroeder, Tim (Theresa) Von Arx, Andy (Meghan) Von Arx, Michael (Jenni) Von Arx, Tricia (Matt) Papenfuss, Laura (Phil) Schulze, Matt and Sarah Petersen, Jon and Josh Petersen, Hannah, Isaac, and Samuel Petersen, Emilee and Eli Lehmann; and great-grandchildren, with one on the way, Adrianna, Isiah and Ashlyn Reinhart, Makayla and Branson Reinhart, Alexis and Kody Schroeder, James, Anne, Jared and Madelyn Von Arx, Mariah, Owen and Lucas Von Arx, Vanessa, Lane and Chad Von Arx, Baby Papenfuss, Hailey, Natalie and Connor Schulze. Lucille is also survived by two brothers, Marcellus (Mac) Miller and Albert (Al) Miller; and three sisters-in-law, Millie, Rita and Monica.
Lucille was preceded in death by her son, John Charles, when he was three months old; her parents, John and Emma Miller; her brothers, Rudy, Eugene, Martin (Beatrice), Vincent (Eleanor), Norbert, Harold, and Conrad; one sister, Gertrude (Walter); and one sister-in-law, Theresa.
A Mass of Christian Burial will be held at 11 a.m. Saturday, March 20, at St. Mary's Catholic Church in Caledonia. Fr. Matt Wagner, Fr. Tom Jennings, Msgr. Thomas Melvin, and Fr. John Evans will officiate. Visitation will be from 3 to 7 p.m. Friday, March 19, at the Four Season's Community Center, Caledonia. There will be a rosary at 9 a.m. at the church Saturday with visitation from 9:30 a.m. until 10:45 a.m. at the church. Private burial will be held at a later date.
In lieu of flowers, memorials are preferred. You are kindly asked to wear masks to the visitation and funeral.
McCormick Funeral Home, Caledonia, is assisting the family and online condolences maybe given at mccormickfuneralhome.net.