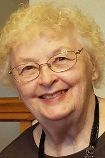 Lenora "Lennie" Jean Mercer, 86, of Houston died Sunday, Jan. 10, 2021, at Valley View Healthcare and Rehab in Houston.
Lennie was born Oct. 4, 1934, in Money Creek, to Leonard and Adeline (Rouse) Ledebuhr. She graduated from Houston High School. On June 16, 1956, she married the love of her life, Floyd Mercer, whom she met while roller skating in Winona. Lennie was one of the original nurses' aides at Valley View when they first opened. She also cleaned many houses in the Houston area. She was a devoted wife and mother. Lennie enjoyed cooking, baking, quilting, traveling and was known for her yummy potato salad, that was always requested at family gatherings. She could play a mean game of euchre and loved to beat "the guys!" Lennie also enjoyed reading the Bible and many books. She was devoted to the ministries of the United Methodist Church and was a staple for many years at Money Creek UMC, helping with many of the activities there.
Lennie is survived by her husband of 64 years, Floyd; three children, Kyle Mercer of Winona, Cindi (Ron) Van Loon of La Crescent and Jenell (Randy) Vogel of Winona; grandchildren, Eric (Rachel) Mercer, Michael (Darcy) Mercer, Justin (Janell) Mercer, Nathan (Ashley) Van Loon, Angela (Keith) Burisek, Ashley Vogel (special friend, Rachel) and Jesse (Brenda) Goerts; many great-grandchildren; and three sisters, Cleo Lohse, Mavis Jorde and Cheryl Radtke.
Lennie was preceded in death by her parents; and three brothers-in-law, Ronald Lohse, David Jorde and Donald Radtke.
Visitation was from 12:30 to 1:30 p.m. Sunday, Jan. 17, at Money Creek United Methodist Church. Due to Covid restrictions, the service at 1:30 was for family only. She was laid to rest at Money Creek Cemetery. Face masks and social distancing were required.
Hoff Funeral & Cremation Service-Houston assisted the family with arrangements. Please share a memory of Lennie and sign her online guestbook at www.hofffuneral.com.