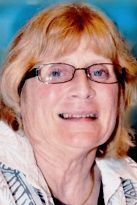 NODINE — Kandy Lee Sonnek, 66, of Nodine passed away peacefully at her home, Thursday, July 23, 2020, with the love of her life by her side.
Kandy was born Aug. 19, 1953, to Kenneth Drossel and Lois (Weldon) Kruger in Los Angeles, Calif., at the City of Angels Hospital. An angel was born on that day. Her family moved from California to Pemberton, Minn., when she was in high school. She graduated from Waldorf Pemberton High School in 1971. She attended Mankato Commercial College, to be a legal secretary. She married her high school sweetheart, Charles "Rick" Sonnek, Dec. 29, 1973. They raised three children, Jessica, Jaime, and Jacob. They started their family in Waseca, Minn., then moved to Galesville, Wis., when they found their Hundred Acre Wood, in the bluffs above Dakota, Minn., in 1985. At that time, she was diagnosed with M.S.
Kandy had a passion for family, music, and nature. In her 20s, she enjoyed playing softball, volleyball, tennis, and bowling. As her MS progressed, she found happiness in sewing quilts and teddy bears for friends and family, especially babies and children. She loved attending concerts and collecting Moody Blues memorabilia. She enjoyed spending time with her ginormous extended family and going on crazy trips and adventures with her husband, Rick. Her wheelchair didn't stop her from experiencing the thrills of parasailing, white water rafting, flying on a tiny float plane to spend a week in the wilds of Alaska, three cross-county Amtrak trips to all coasts of the U.S., four Moody Blues cruises, and not ever enough jeep rides on the trails of their Hundred Acre Wood. Between adventures, she found joy in sending birthday cards to that ridiculously huge family and friends (imagine the postage stamps she went through). Kandy worked at various legal offices throughout her career until 1992. She was known for her determination, strong-will, and quick wit.
Kandy is survived by her husband, Rick; three children, Jessica (Trevor Buswell) Sonnek, Jaime (Tom) Duffy, and Jacob Sonnek; seven grandchildren, Alexia Sonnek, Dustin Sonnek, Dominic Buswell, Austin Marie Sonnek, Max Sonnek, Bryce Duffy, and Kennette Duffy; brother, Kevin (Lynn) Drossel; sister, Denise (Rick) Gilleland, and sister, Diana (Jim) Hansen; father-in-law, Charles Dominic Sonnek; siblings-in-law, Tim (Barb) Sonnek, Beth (John) Thompson, Amy (Dave) Adams, Steve (Vonnie) Sonnek, Chris (Karen) Sonnek, Kellen (Liwan) Sonnek, Perry Sonnek, Joy Sonnek, Sara Sonnek, Peter (Lori) Sonnek, Anthony (Brenda) Sonnek, and Matt (Senita Rose) Sonnek; uncountable cousins, nieces, nephews, and many friends. Kandy was preceded in death by her infant brother, Gary Drossel; her parent; her mother-in-law, Betty Jean Sonnek; her stepfather, Richard Kruger; and her siblings-in-law, Jon Sonnek, Andrew Sonnek, and Ruth Ann Sonnek.
We are eternally grateful for all the support we have received over the years from our loving family, special friends, good neighbors, and strong community. This love and support helped us get through the many challenges of life with MS, including the loss of our home from a fire in 2002. Words cannot express how much we will miss Kandy Lee.
A celebration of Kandy's life will be held at a later date.
Online condolences or memories may be left for Kandy's family at www.watkowski-mulyck.com. Watkowski-Mulyck Funeral Home of Winona is assisting the family with arrangements.
Obituaries Newsletter
Sign up to get the most recent local obituaries delivered to your inbox.