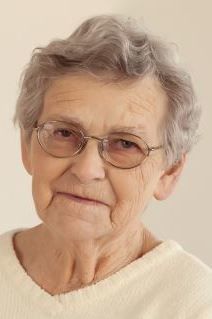 LA CRESCENT/HOKAH, Minn. — Doris Von Arx, 85, of La Crescent passed away Tuesday, June 9, 2020, at Springbrook Village in La Crescent, with her three children at her side.
She was born in Caledonia, Nov. 7, 1934, to Harry and Clara (Dresselhaus) Paus. She graduated from Caledonia High School in 1952 and then worked for Northwest Airlines and the La Crosse phone company. On June 1, 1957, she married Robert Von Arx at St. Peter's Catholic Church and together they raised their family in "the valley" outside of Hokah. She enjoyed visiting with friends in the neighborhood over a cup of coffee. She worked in food services at St. Francis Hospital/Mayo Clinic Health System for many years. She liked to travel, especially to the mountains and Alaska. In more recent years, she spent time chatting on the phone with friends and making new friends at Springbrook. She loved dogs and she loved her Golden Oreos.
Doris is survived by her children, Sue (Bob Hafner) Horihan, David (Missy) Von Arx and Karen (Ron) Petersen; five grandchildren, Ryan (Ashleigh) Horihan, Teri (Michael) Kennelly, Carlie Von Arx, Jon Petersen, and Josh Petersen; four great-grandchildren, Dylan and Jude Horihan, and Rowan and Lochlan Kennelly. She is also survived by one sister-in-law, Bernice Onsgard; and one brother-in-law, Roger (Sandra) Von Arx. She was preceded in death by her parents; her husband, Bob, in 2016; an infant daughter; and her sister-in-law, Dorothy Senn.
A Mass of Christian burial will be held at 11 a.m. Monday, June 15, at St. Peter's Catholic Church, Hokah, with Msgr. Thomas Melvin officiating. Burial will be in Mount Calvary Cemetery. Friends may visit with the family from 9:30 a.m. until the time of services Monday at the church. Lunch will be served at the Swing Bridge Pub in La Crescent, following the burial. Please practice social distancing. A live-stream of the funeral service will be available on the Schumacher-Kish Facebook page.
In lieu of flowers, memorials are preferred and will be used in Doris' memory.
Thank you to the wonderful staff at Springbrook Village and St. Croix Hospice for the love and care you gave mom. Online guestbook is available at www.schumacher-kish.com.
Obituaries Newsletter
Sign up to get the most recent local obituaries delivered to your inbox.