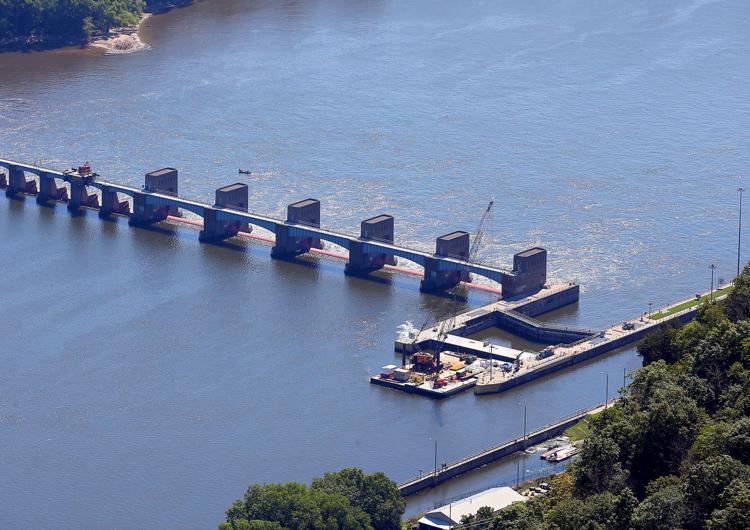 The U.S. Army Corps of Engineers awarded Kraemer North America LLC a $17 million contract to replace deteriorating guide rails at five Mississippi River locks and dams in the La Crosse and Winona region.
Much of the concrete structure around the rails is cracked and needs to be replaced, said Kimberly Warshaw, project manager. "Safety is really one of the biggest reasons why we're doing this project."
Tow rails, attached horizontally to the lock chamber wall, anchor and guide unpowered barges through the 600-foot lock chambers.
The Corps installed tow rails in the 1960s, when commercial shipping moved to longer boat and tows, Warshaw said. The barge chain, too long to fit into the lock chamber at once, had to be split up and locked through in two trips. That meant that while the barges connected to the boat could move through on their own, boat-less barges needed to attach themselves to the tow rail to lock through.
If the tow rail should fail, barges could drift away or get pulled by strong currents towards the dam gates, said Scott Snelling, technical lead on the project.
The tow rail at Lock and Dam 7, near La Crescent, has broken twice in recent years. In 2011, one of the wheels on the traveling mooring bitt, which connects the barge to the tow rail, was ripped from the rail by a barge caught in a powerful current, Snelling said. In 2014, the rail started bending toward the water, causing the traveling mooring bitt to fall out.
The rail has been repaired, so it's no longer the highest priority, though the contract also includes the option to work on Lock and Dam 7, Warshaw said.
Tow-rail replacement locations include the locks and dams near Alma, Wis., Minnesota City, Minn., Fountain City, Wis., La Crescent, Genoa, Wis., and Eastman, Wis.
Kraemer North America, headquartered in Plain, Wis., is a civil contractor on road, rail, and marine construction projects. In 2018, the Corps gave Kraemer an almost $1.3 million contract to repair Lock and Dam 6's traveling mooring bitt system.
Construction will take place this winter and next winter so as not to disrupt river traffic, said Patrick Loch, Corps spokesperson for the St. Paul District.