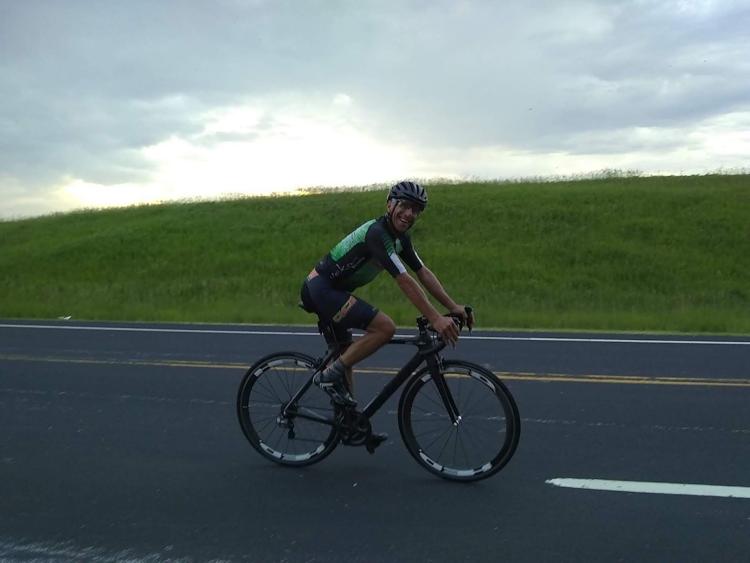 Jim Elkins, a retired member of the U.S. Air Force, scanned the weather.
He looked for an overcast day with no rain, temperatures between 55 and 75 degrees and little to no wind. He found it on the day after Father's Day, the 21st anniversary of his father's death.
He packed his gear the night before he left, enough food to last a day along with bottles of water, and a headlamp to light his way until the sky lightened enough for him to see.
By 3:30 the next morning he was on his way to climb a hill in Dakota, Minn., enough times to equal the height of Mount Everest, on his bicycle.
The idea of "Everesting," scaling an incline enough times to equal the height of Mt. Everest on a bicycle in one go, was planted in the 61-year-old military veteran's head by a friend who he met on a cycling adventure in 2013.
That ride was 17 days and spanned the distance from San Diego to Savannah, Georgia.
Unfortunately, Elkins crashed five days into that trip and suffered a broken collarbone and broken ribs. That didn't lessen his love of biking and as soon as he healed, he was back on two wheels with the gears turning in his head toward his own Everest climb.
He found his Everest in Minnesota, just north of Dresbach, on a tree-lined, paved hill with a manageable incline.
"About 10 days beforehand, I rode that hill 16 times as a pre-ride to see if I was fooling myself," he said. "I figured if I could do 16 of them, I could do 60 of them."
Elkins' suffered a couple of biking failures before his Everest climb, which pushed him to complete the feat.
You have free articles remaining.
A year ago, he took part in a race in Michigan. The goal was to see how many miles a cyclist could ride in a 24-hour period. He completed more than 200 miles in 12 hours before the effects of a concussion that he suffered due to a crash two weeks before overcame him.
A couple of years ago, he tried to complete a solo 420-mile trek from Salt Lake City, Utah, to St. George and reached the halfway mark before the cold and exhaustion became too much.
"Mentally, I wasn't prepared for that one. This one I was prepared for," he said.
Elkins' dad, a WWII veteran, instilled values such as discipline and perseverance in Elkins from an early age and as Elkins made the climb up his Everest hill in 60 repetitions, his thoughts turned toward his late father.
"When he was 61 years old he was already starting Parkinson's disease, he was in early stages," he said. "He couldn't do this kind of stuff anymore and here I am, perfectly fine, so I was not going to stop."
Nobody knew about Elkins' climb other than Tammy Elkins, his wife of 41 years, who brought him sausage burritos throughout the day and cheered with him as he finished his climb. "She always supports these crazy ideas," he said.
Elkins' started biking 13 years ago as a way to continue cardiovascular exercise after running became too much for his joints.
"The pounding of the knees and the hips, just started hurting so I had to find something else to do," he said.
The social aspect of biking helped him stay engaged in the sport. Riding communities and comradery among fellow cyclists in La Crosse provides him with motivation to get stronger and faster as a cyclist and keeps him on two wheels.
"I'm not a great climber, I'm not a great athlete, I'm just an average guy," he said.