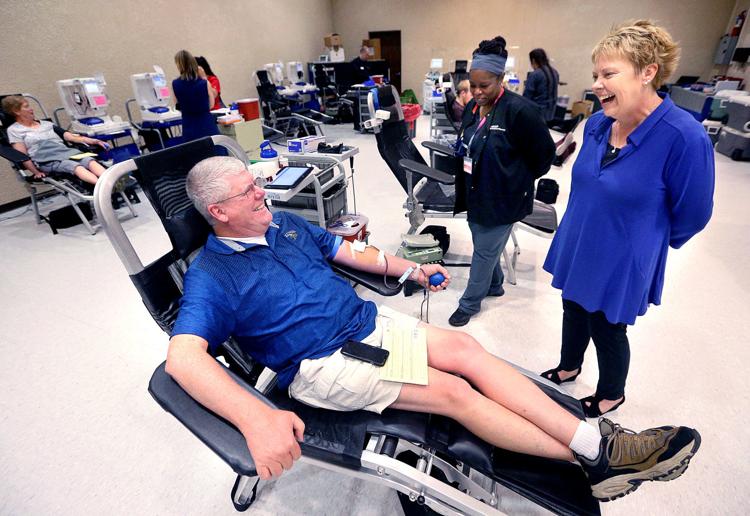 Some 10,000 units of plasma are needed on a daily basis nationwide, according to the American Red Cross.
During the past few years, La Crescent resident Colleen Storandt has received more than 600 infusions of the liquid portion of blood, which carries essential proteins and nutrients and was crucial in saving her life.
For more than three decades, Storandt, 57, has suffered from Upshaw-Schulman Syndrome, a rare and complex blood coagulation disease.
A form of thrombotic thrombocytopenic purpura, the condition causes the body to destroy its platelets, Storandt explains. She experienced her first small stroke as a result of the condition 35 years ago, and suffered a full stroke in 2014. Storandt was lucky to survive, but her symptom management requires up to three plasma infusions per week.
"With the infusions I feel great," says Storandt, who will likely need to continue the regime for the rest of her life, as no drug treatment for TTP currently exists. "I can do my regular activities. Without the infusions, I probably wouldn't be here."
Storandt knows her outcome could have been bleak if not for the willingness of community members to give of their blood, platelets and plasma to patients like her.
In honor of all donors, whether single timers or dedicated contributors, Storandt appeared at the Versiti Blood Center of Wisconsin 12th Annual Declaration for Donations Blood Drive Tuesday morning, expressing her sincere gratitude and encouraging eligible individuals to contribute to the cause.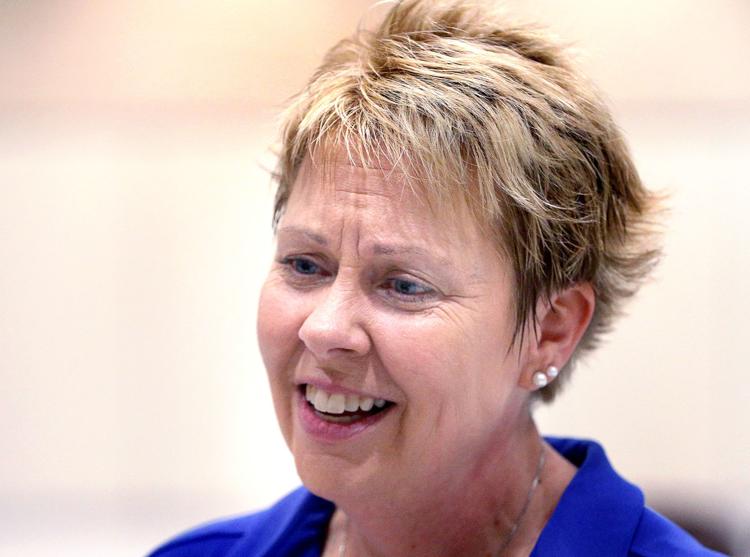 "I'm so thankful to all the generous donors — they are my heroes," Storandt said. "When I found out how many units (of plasma) I've had, I had to say thank you to them. Most people go to the pharmacy to get their medicine and I have to go to the Blood Center to get my medicine."
The donation event, which returns today from 12:30 to 5:30 p.m. in the La Crosse Center ballroom, coincides with the seasonal shortage of donations. With vacations and kids home from school, fitting in a donation appointment can prove difficult for some adults, though it is the summer months when the need often peaks.
"We really wanted to focus on Colleen's story to really back why donating blood, even in the summer when you might be busy, it's really important," said Blood Center regional manager Nikki Chalsma. "There's a face on the other end of it."
Accidents and emergencies often increase in warmer weather, with motorcycles, bicyclists, swimmers, hikers and sports players out in force, and blood donations of all types, particularly O negative, are of great need.
According to the American Red Cross, 36,000 units of red blood cells and 7,000 units of platelets — cells that help with clotting — are utilized daily for patients across the country.
Statewide, Chalsma says, more than 800 donors are needed on a daily basis to meet the needs of Wisconsin hospitals. About 200 donors were anticipated over the two-day Declaration for Donations blood drive.
Blood Center volunteer Larry Pischke of Onalaska began donating blood himself in the mid-1980s, when his late father began receiving bi-weekly transfusions for his lymphoma.
"There is always a need for blood," Pischke said, inviting individuals to refuel with a spread of sandwiches and cookies post donation.
Tanner Barton, 19, felt a bit lightheaded after donating for the first time and sat down with his grandmother Ruth Reno, 71, for a snack. Reno invited her grandson to come along after he expressed interest in volunteering, and despite his mild wooziness, Barton planned to continue donating in the future.
"I think it's just so important to give back and help others," Barton said.
With type O-negative blood, Reno is considered a universal donor and makes a point to give double when possible. A regular donor of five decades, Reno is a wholehearted supporter of the cause.
"There are so many accidents and serious injuries," Reno said. "If I can save a life by donating, this is something very easy to do and very rewarding."
Those interested in donating blood Wednesday can schedule an appointment by calling 1-877-232-4376 or visit versiti.org/Wisconsin.
Walk-ins are also welcome. Donors must be 17 or older or 16 with parental consent, provide a photo ID which includes date of birth, and be of general good health. The process takes approximately one hour, and donors will receive a free 2019 Riverfest button in appreciation.