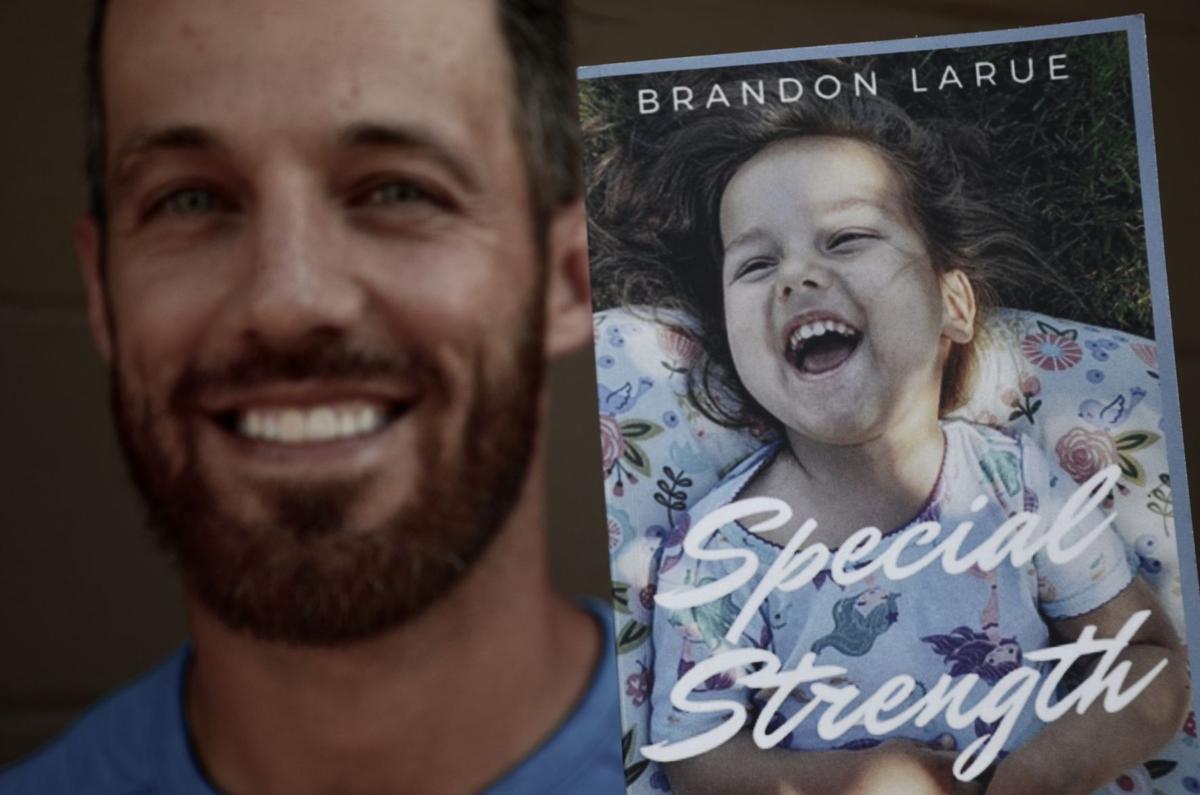 For Brandon LaRue, the best lessons in life aren't ones he learned inside the walls of a school, from playing team sports, or even from other adults his age.
They were taught by his four-year-old daughter.
LaRue, a 2001 La Crescent High School graduate who recently moved back to town with his wife Jenny, released a book he wrote entitled "Special Strength," which is a compilation of stories and lessons he's learned while raising his daughter Livia.
Though written through the lens of his relationship with his daughter, the theme of the book is one that could apply broadly to anyone's life.
"I would say it's about shifting your perspective," LaRue said. "It's very perspective-shifting to things that people might complain about or be negative about — and in the context Livia, some of the things she can't do — and shifting your perspective and being grateful for the things that she can do."
Livia was born with a form of epilepsy, a condition that went undetected until she entered the world. Essentially, Livia has a mutated gene that renders potassium channels in her body nonfunctional, and in turn, she has very little muscle tone and is delayed, LaRue said, "in almost every way imaginable."
"The world would think she's cognitively delayed, but I think she's brilliant," said LaRue, who has two other children as well. "She does a lot of things differently that makes me question who the flawed people are," noting the general discord in the world today.
"She's beautiful, she's happy, she's joyful, she doesn't judge. … There's all these different perspectives that I get."
It's that character, LaRue said, that builds the chapters of the book, each focusing on a distinct lesson he's learned, borne out of the moments in life he's experienced with Livia.
Many times, those lessons developed over time, and as they became more clear, it was only then that he would put pen to paper and begin to share them in a relational way with those who would read about them.
"It's very organically written," he said of the book, which also includes elements of his faith life. "I didn't force writing it, and I even waited sometimes because there were more lessons to come, but it hadn't hit me yet. … But when it comes, it hits me like a ton of bricks."
One of the most memorable, to this point, is a lesson on empathy, which has nudged him to consider life in another's shoe while reserving judgment — something that's helped him with his career in coaching kids.
In this situation, where a trouble kid years ago would elicit frustration, now, LaRue said, he tries to consider the things he doesn't know — a child's parental situation, home life and the like.
"If I can take step back and try to build a relationship with them, now I can have that chance at helping that kid rather than just building another wall," he said. "Words are powerful. You just never know if you're the person who says something to a kid, or anybody for that matter, and it could change their life."
Other lessons he points to include communication, which Livia does very differently, as well as love, which he's learned to recognize without hearing those words. But most importantly, surrendering the outcome is essential, because in the end, everyone is mortal, and that unknown exists.
"Things that you can't control, you've got to surrender those things so you can be present, live happy, and live joyful because I can't control that," he said. "And I believe in my heart how she'll spend eternity, and that gives me a great deal of peace."
As someone who admits to his transparency and openness on social media, often writing out his feelings for others to read, LaRue said that after doing so for some time, those he interacted with encouraged him to share his messages with an even wider audience.
They did so, he said, because he attempts to use social media to be "a light in a dark world," which was advice he gleaned after a seminar hosted by legendary NFL coach Tony Dungy.
"I've always looked at social media as a place to be positive and chronicle the ups and downs of life," he said. "And through that, I've developed a passion for writing."
And it's those supporters online — and Livia's life itself — that pushed that passion beyond websites. He used those writings, as well as others elsewhere, as the basis for the book, and gradually during the past year, they came together to complete this one aptly named collection.
"We came up with Special Strength (for the title), and I think it's a great play on words," he said, "because who doesn't have special needs? You do, I do. But let's talk about her strength."
It's that strength of a special-needs child, along with everything LaRue has learned from his daughter, that he hopes readers are left with after finishing the final page of the book. His goal, he said, is that the person who finishes it is different from the person who started it.
"I think it'll change people's heart," he said. "When people read it, they're going to laugh, they're going to cry, but I just hope those lessons change their heart for their own personal life."
"If you were to judge it by its cover, you would think it's maybe a story about a dad and his special-needs daughter, and there is piece of that in there," he added, "but the lessons in the book transcend all that, where a father could take something away from it, a coach could take something away from it, and a business executive could take something away from it. Anyone could. There's just a lot of humanity in it."
Be the first to know
Get local news delivered to your inbox!