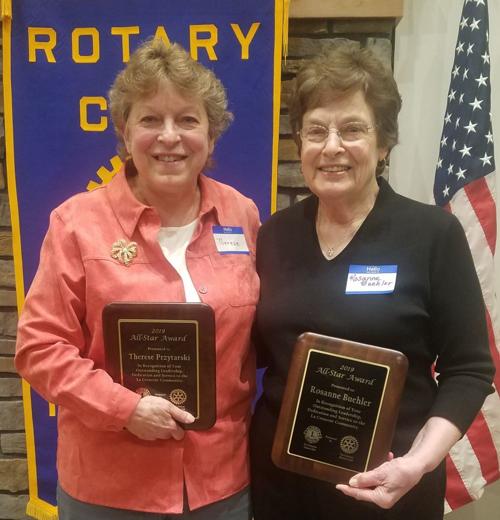 Therese Przytarski and Rosanne Buehler have been selected the La Crescent Lions/Rotary All Stars for 2019.
The awards were presented by the 2018 recipients Paul Ulland and Don Thesing
Award organizers said this year's recipients had many things in common and were summarized as follows:
Both are active in the Crucifixion Church with the Women's Council; singing in the choir; and serving on various committees. In addition, both prepare and serve food for funerals, bake sales and cookie walks.
Their baking and leadership skills carry over in their work and volunteering with the La Crescent Library. They are both Friends of the Library and are very supportive of the various events going on there.
Both are concerned about their personal health as well as the physical wellbeing of others in the community. They participate in SAIL-the Stay Active and Independent for Life exercise program for seniors.
Each has unique gifts that they willingly share with the La Crescent community.
Presenters said Przytarski has put her heart and soul into making the La Crescent Public Library a community center of which the community can be proud. She has been president of the Friends of the Library and truly leads by example in all library activities.
She initiated the move of the Friends of the Bookstore to City Hall. At this location books are available for sale to all in the community. Many are brought back and recycled for others to use. Her emphasis on reading and education has truly left a positive mark on our community.
She is a leader of SAIL and has recruited others to participate. She sometimes is there leading and participating up to four times per week.
She is also very good around the neighborhood by willingly helping others with shoveling snow; caring for pets; cleaning houses; preparing meals; and planting and maintaining gardens.
Buehler also has a long resume of leadership in the La Crescent community. She has held every major office in the American Legion Auxiliary and will assume the president's position again in 2020.
She has chaired the "Poppy" Committee for several years; chaired the Girls State committee and has encouraged individuals to participate; and has spearheaded the Brat Barn event at Quillins. Proceeds go toward the Auxiliary scholarship program.
Buehler also has been on the board of the La Crescent Chamber. Her leadership with Applefest has also been significant. One thing you can say about her is that she seems to always have her fingers in the "dough" — pie dough.
A fundraising event is not a success without one of her apple pies or pie slices. Whether it is for the Chamber Auction; the Legion; the library; or Crucifixion Church, one of her marvelous delicacies will bring top dollar. She has taken her talents to a new level by organizing a 400 pie production for Applefest.
She is now chair of the Winona-Rochester Diocesan Council of Catholic Women. She has helped and organized a drive for donations for the disadvantage in Haiti.
Be the first to know
Get local news delivered to your inbox!