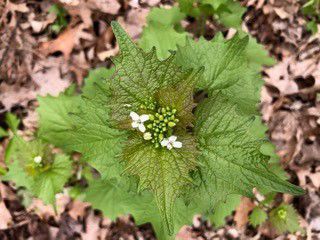 Garlic Mustard is a non-native, invasive plant spreading through the Midwest as well as other parts of the country. It has the potential to displace native plant species and to inhibit forest regeneration.
Originally brought to the United States from Europe in the 1800s for food & medicinal purposes, it has fully established itself and continues to increase its presence around the country.
Garlic Mustard is an early season herb that germinates from seed prior to other native plants.
It benefits from when there is high light due to absence of leaves on trees. It is found along trails in forests, recently disturbed ground and even sunny regions. The seeds are spread around in mud by humans, animals and equipment. These seeds can stay viable in the soil for 5-10 years prior to germination. Each plant lives for two years in order to produce the seeds to keep the population growing.
In its first year, the plant grows low to the ground in circular arrangements called rosettes. The leaves are heart shaped with rounded edges & many veins. The purpose of the first year plant is to absorb light and perform photosynthesis to produce energy for root growth. For every 33 rosettes, only one lives on to become a second year plant.
In year number two, the plant grows 12 – 36 inches tall and flowers off one or multiple stems. The leaves become more triangular & coarsely toothed.
Flowering occurs in May through June. Each bloom is very small, white & four petaled. After flowering, slender seed capsules 1/16 inch wide by 1-2 inches long form producing a single row of oblong black seeds.
The seed pods ripen in July and disperse in August. Each plant can produce hundreds to thousands of seeds which remain viable in the soil for 5-10 years.
The mature plants are considered "allelopathic." This means that they produce biochemicals that influence the survival of other plants. These chemicals are not necessary for the growth of Garlic Mustard but instead are destructive to the plants around it. They especially affect beneficial fungi in the soil which are helpful to trees. In addition, the thick growth of this invasive plant shades
other natives which in turn physically reduces their growth.
Be the first to know
Get local news delivered to your inbox!