A new resolution is moving through the La Crosse County Board of Supervisors this month that welcomes Afghan refugees to the region.
The resolution is essentially a commitment by the county and doesn't make any policy or financial changes, and it issues its support for the refugees and the groups aiding in their arrival, including nonprofits and religious organizations. It was approved unanimously by the Executive Committee on Wednesday morning.
"The County of La Crosse proudly proclaims its support of refugees families living within our county, state and our United States, and expresses its support of welcoming Afghan refugees and special immigrants fleeing persecution and terror into our nation, county and local communities," the resolution reads.
It adds that the county will "work with cities and other governmental units within our county and other applicable public entities and local religious, civic and charitable organizations to assure that we will be a welcoming community that accepts Afghan refugees and special immigrant visa holders as guests and possible future neighbors and shall actively promote this welcoming attitude."
Up to 13,000 Afghan refugees are expected to be housed at Fort McCoy after fleeing Afghanistan amid the United States' exit. Most of the refugees are not expected to stay in the region permanently, but some may.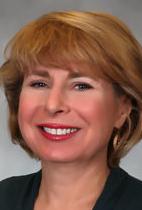 La Crosse County supervisor Maureen Freedland, who co-sponsored the resolution, said she and supervisor Andrea Richmond toured Fort McCoy last week and received a briefing that was largely to "dispel some ugly rumors that were circulating in the community." The Monroe County Sheriff's Office recently debunked a false post circulating on social media about a carjacking near Fort McCoy.
Freedland told the committee Wednesday that this resolution "goes beyond" weighing the costs and benefits of welcoming refugees to the region.
"It's more about hope and compassion," she said.
Freedland said that for her, the resolution was about "paying it forward."
"I myself am the daughter of immigrants to the United States. My grandparents were killed in the Nazi concentration camps during World War II. My parents were Holocaust survivors who arrived with poor English skills and they had to start life over. Fortunately they came to a supportive community. My parents went on to become productive, secure, loyal and proud Americans," Freedland said.
"It's about welcoming a stranger," she said. "And whether we find our responsibilities in the Gospel, the Quran, the Torah or otherwise no religious text at all, it is important for us to welcome new people to our country."