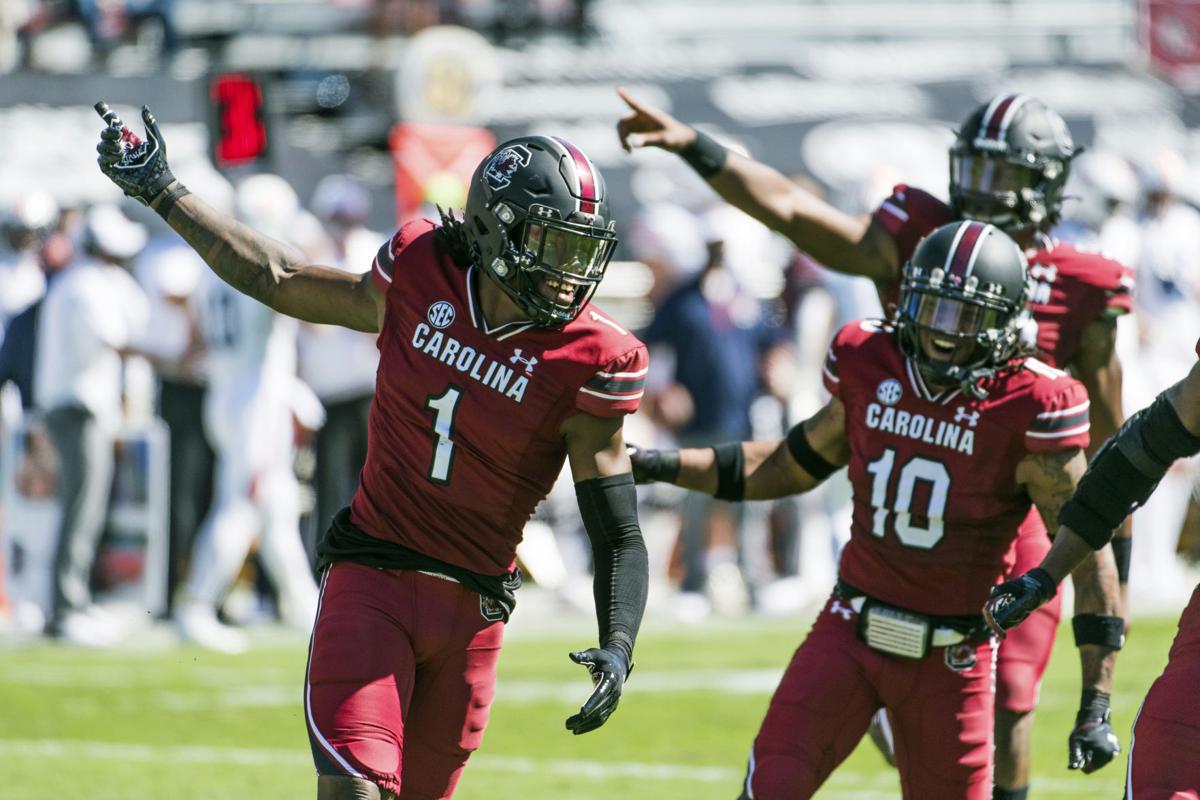 COLUMBIA, S.C. — Kevin Harris ran for two touchdowns and South Carolina turned three interceptions thrown by Bo Nix into points to defeat No. 15 Auburn for the first time in 87 years with a 30-22 victory on Saturday.
The Tigers (2-2 Southeastern Conference) had won eight straight in the series and jumped out to a 9-0 lead in the opening 10 minutes. But Nix, the sophomore quarterback, threw three picks and the Gamecocks (2-2) cashed in each time to win consecutive games for the first time in more than a year.
Shi Smith had eight catches including a 10-yard TD grab midway through the third quarter and put South Carolina ahead for good, 20-19.
Auburn was driving on its following series when Nix threw his third interception — and second to cornerback Jaycee Horn who brought the ball down the left sidelines to the Tigers' 8. Harris was in the end zone a play later for a 27-19 lead and Auburn could not recover.
The Tigers closed to 30-22 on Anders Carlson's 22 yard field goal with 6:39 left. Auburn got the ball back once more with 2:15 left and drove to the South Carolina 13. Nix, though, was called for intentional grounding trying to avoid a sack and the Gamecocks held on to beat the Tigers for the first time since 1933.
South Carolina had not won back-to-back games since defeating Kentucky and then-No. 3 Georgia last season. That win over the Bulldogs was the last time the Gamecocks had beaten a ranked opponent.
Auburn's offense looked unstoppable the first half and doubled up South Carolina in yardage (243-119) the first 30 minutes — except when Nix put the ball in danger.
Nix was 8 of 14 for 94 yards on the Tigers first two drives for a 9-0 lead.
But Nix threw into triple coverage on the next series and was picked off by Horn, son of longtime NFL receiver Joe Horn.
Five plays later, Harris ran for a 4-yard TD to tighten things.
Again, Auburn restored its edge — and Nix found Seth Williams on a 44-yard pass for the Tigers' longest throw this year — with Tank Bigsby's 2-yard touchdown run to go up 16-7.
And again, Nix's interception — this time by Jaylin Dickerson — got the Gamecocks back in it as Hill ended an 11-play drive with a 1-yard run.
Kentucky 34, No. 18 Tennessee 7
KNOXVILLE, Tenn. — Kelvin Joseph and Jami Davis returned interceptions for touchdowns in the first half and Kentucky shut out No. 18 Tennessee in the second half to bury the Volunteers 34-7 Saturday.
It was Kentucky's first win in Neyland Stadium since 1984, the Wildcats' largest margin of victory in Knoxville since 56-0 in 1893 and their most lopsided victory in the series since 1935.
After getting six interceptions and allowing only a safety against Mississippi State last week, Kentucky (2-2) picked off three passes against the Vols (2-2).
Tennessee has now followed up an eight-game winning streak with a two-game losing streak.
Joseph's 41-yard touchdown and Davis' 85-yard return — both off interceptions thrown by Jarrett Guarantano — helped put Kentucky up 17-0 in the second quarter.
With about 5 minutes left in the third quarter and trailing by 20, Tennessee went three-and-out for a second consecutive possession and was showered with boos from the sparse crowd of 22,519.
Earlier in the season, Kentucky had shown signs of having difficulty recovering from adversity. Against Ole Miss, a missed field goal was followed by 21 straight Ole Miss points and a 42-41 loss.
No. 1 Clemson 73, Georgia Tech 7
ATLANTA — Trevor Lawrence brushed off the first interception he has thrown this season and passed for a career-high 404 yards and five touchdowns as No. 1 Clemson overwhelmed Georgia Tech 73-7 on Saturday.
Lawrence completed 24 of 33 passes. All of his scoring passes came in the Tigers' dominant first half. Clemson led 52-7 at halftime and kept adding to the lead in the second half, even with second- and third- (and maybe fourth-) stringers on the field.
Lawrence left the game after Clemson's first possession of the second half.
Clemson (5-0, 4-0 Atlantic Coast Conference) outgained Georgia Tech 671-204. The Tigers compiled an equally lopsided 29-7 advantage in first downs.
Georgia Tech (2-3, 2-2) provided its fans an early thrill when freshman quarterback Jeff Sims threw a 59-yard scoring pass to Jalen Camp in the first quarter for a 7-7 tie. The Yellow Jackets' upset hopes faded quickly.
Lawrence answered with an 83-yard scoring pass to Rodgers on the Tigers' next play, and the Yellow Jackets never recovered. The long pass sparked a string of 66 consecutive points scored by the Tigers.
No. 13 Miami 31, Pittsburgh 19
MIAMI GARDENS, Fla. — D'Eriq King threw four touchdown passes and No. 13 Miami beat Pittsburgh 31-19 on Saturday.
Will Mallory caught two of King's scoring passes as the Hurricanes (4-1, 3-1 Atlantic Coast Conference) bounced back from a 42-17 loss at top-ranked Clemson last week.
The Panthers (3-3, 2-3) lost their third straight and were without senior quarterback Kenny Pickett, who suffered an ankle injury against Boston College last week. Pickett leads the nation with 1,389 passing yards but didn't travel with the team to South Florida.
Redshirt freshman Joey Yellen replaced Pickett, completing 22 of 46 passes for 277 yards and a touchdown.
Alex Kessman kicked four field goals for the Panthers and became Pitt's all-time leader with 57. Kessman surpassed Chris Blewitt, who had 55 field goals from 2013-16.
Pitt rallied from a 21-6 deficit with 10 unanswered points on Kessman's record-setting third field goal and Yellen's 1-yard touchdown pass to Daniel Moraga early in the third quarter. Marcus Williams' 38-yard interception return to the Miami 1 set up Moraga's score.
But Miami regained its double-digit advantage on King's 45-yard touchdown pass to Mallory.
Kessman's fourth conversion with 31 seconds remaining in the third quarter made it 28-19 before Jose Borregales gave Miami another double-digit cushion with his 37-yard field goal late in the fourth quarter.
The Hurricanes struck first on King's 35-yard touchdown pass to Cam'Ron Harris midway through the first quarter. King retreated from an attempted draw and found an open Harris down the middle.
King connected with Mallory on a 6-yard score with 6:44 remaining in the second quarter for a 14-0 lead.
Kessman kicked two field goals late in the second quarter and got the Panthers within 14-6. Pitt settled for the second field goal after being unable to capitalize on a drive starting at the Miami 12 that was set by Harris Ford's 25-yard interception return.
King found an open Mike Harley down the right sideline for a 38-yard touchdown pass in Miami's opening drive of the second half. Harley eluded a Panthers defender before reaching the end zone for his first TD reception of the season.
Be the first to know
Get local news delivered to your inbox!