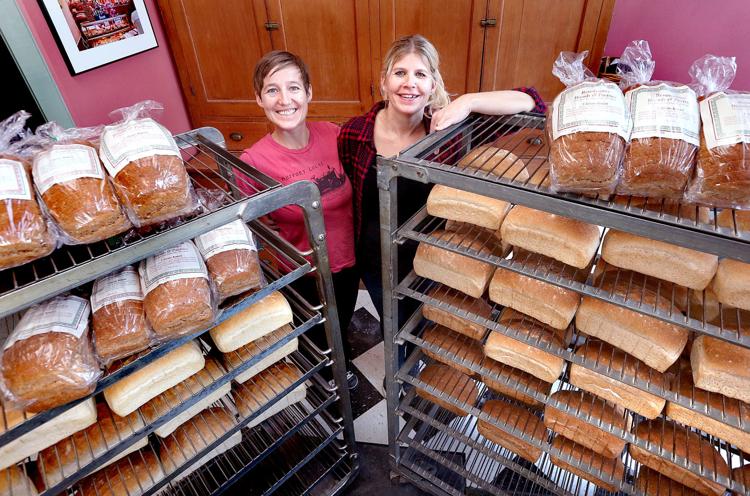 GALESVILLE — There's no sign at the entrance to advertise the name of Renaissance Breads & Pastries, which began about 26 years ago in a turn-of-the-century building on Galesville's town square.
That's because sisters Harmony Bork and Sally Reimer, who took over the business from founders Chad and Lora Hill in 2008, have no plans to create a retail sales area in their bakery. They don't have the time, nor the inclination to hire the employees necessary to do that.
Instead, they continue baking hundreds of loaves of bread each week for sale in several area stores and the Winona farmers market. During the course of a year, they'll produce nearly 30 varieties of bread, including some seasonal ones.
Renaissance only makes healthy products, Reimer said. All Renaissance breads are made from scratch and only with organic, non-GMO flour and grains.
"We use no mixes, no additives, no preservatives, no dough conditioners," Bork said.
The two sisters bake and deliver their breads on Monday, Wednesday and Friday, and also bake smaller amounts on Saturday for the Winona farmers market.
Renaissance breads are sold at The Common Market in Galesville, the People's Food Co-op in La Crosse, Festival Foods in Onalaska and Holmen, the Viroqua Food Co-op, Bluff Country Co-op in Winona and the Winona farmers market.
At the Winona farmers market, Renaissance also sells scones and its newest product, Great Granola.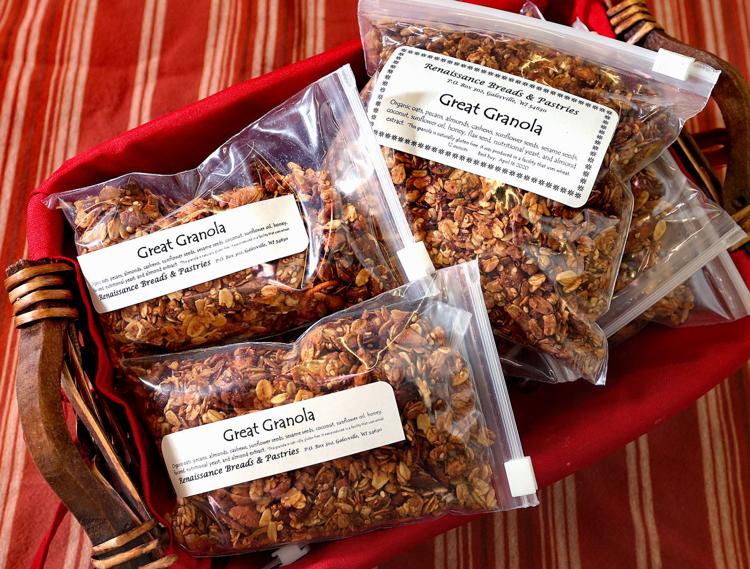 And in Trempealeau, the Driftless Bike 'N' Bean shop sells Renaissance scones and Great Granola.
Renaissance scones are available at Driftless Bike 'N' Bean, The Common Market, Bluff Country Co-op and the Winona farmers market.
Besides bread and scones, The Common Market also sells the bakery's Great Granola and cookies.
The bakery also gets special orders from people for events such as banquet dinners and parties.
Renaissance has been selling Great Granola for about two years, Reimer said. "It's a wonderful recipe that our mom gave us," she added, and includes oats, sesame seeds, pecans, cashews, almonds, shredded coconut, flax seed, honey, sunflower oil and almond extract.
But bread is the sisters' main product. They typically make about 200 loaves of bread on each of their three main baking days.
Sales peak in the summer months, when people are traveling and when more events are being held.
The biggest sellers are the bakery's three varieties of sourdough bread — white, wheat and rye.
Some other especially popular Renaissance breads include seven-grain, pecan and wheatberry, wild rice and cranberry pecan, which is one of the newest varieties.
Reimer and Bork also make seasonal breads, such as a squash bread and Mexicali sourdough bread.
Loaves of most of the bakery's breads typically weigh about 1½ pounds, while the petite loaves that the sisters began making about six years ago weigh about 1 pound. "It's a smaller loaf," Reimer said of the petite breads, which are easier to finish for people who don't eat lots of bread.
Some of the bakery's main scone flavors include Chocolate Fantasia, which Bork described as a double-chocolate variety; blueberry; raspberry and peach.
Bork and Reimer aren't looking for additional stores to carry their products, and are happy with their current business volume.
"We generally just take what we have right now and say 'That's good,'" Reimer said. "But we're not going to turn somebody down if they ask whether they can carry our bread. If they've got customers to buy it, sure."
As the bakery's owners and only employees, the sisters put in long hours. Yoga helps them relax.
Reimer has been practicing yoga for about four years, and has been teaching yoga classes for about two years. Bork has been practicing yoga for about two years.
Reimer said she took up yoga "to help with the stress of not only owning a business, but life. The stress of owning a business was creeping up on us."
But Reimer and Bork also enjoy visiting in stores and at the Winona farmers market with shoppers who buy Renaissance products.
"When people come up to us and say 'I enjoy your bread so much' or "Thank you for the scones' that just goes right to my heart," Reimer said.
"If you go into a store and someone comes up and says 'I couldn't live without your bread' or 'Thank you,' it really does warm the heart and make you feel that all of those hours of hard work are worth it," Bork said.
The sisters also enjoy buying locally produced ingredients, such as honey, eggs, apples, herbs, squash, onions, peppers, cottage cheese and buttermilk.
Bork and Reimer and their four siblings were raised on an organic farm near Ettrick. They were homeschooled and the family grew most of what it ate.
Reimer was a house painter and Bork was a cook at the Historic Trempealeau Hotel when they heard that their friends, the Hills, planned to close the Galesville bakery in a month if they couldn't find a buyer.
Bork said she and Reimer didn't want the bakery to go away, so they bought it.
The business news you need
With a weekly newsletter looking back at local history.