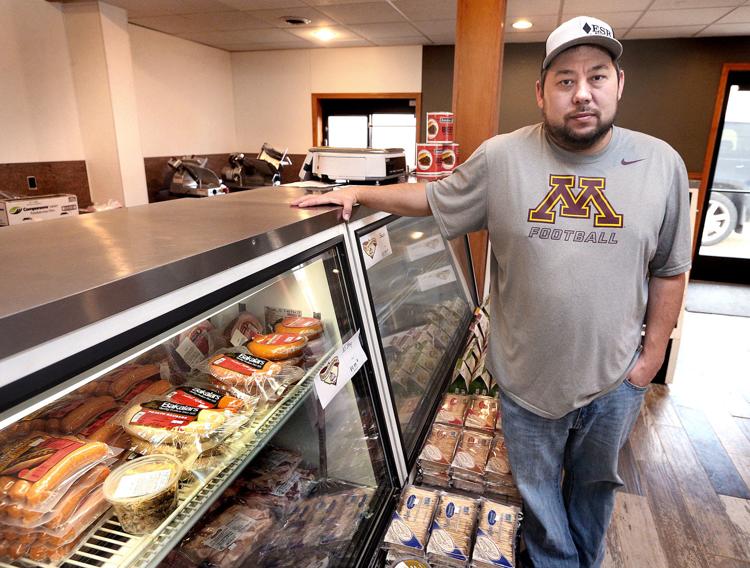 CALEDONIA, Minn. — Caledonia hadn't had a meat market for several years, until Charlie Reed opened Chuck's Old Fashioned Meats on Aug. 30 at 138 S. Kingston St. in downtown Caledonia.
Besides fresh meats, the market — in a building that for many years housed Albert's Grocery store — also is known for such things as its own take-and-bake pizzas, its own huge meat-and-cheese "chuckwagon" sandwiches made with fresh-baked bread from the Caledonia Bakery, and specialty food products such as seasonings, sauces, maple syrup and honey.
Most of the specialty food products come from Minnesota and Wisconsin, such as Pleasoning Gourmet Seasoning items from La Crosse, Norseland Lefse from Rushford and cheese, cheese curds and gelato from Metz's Hart-Land Creamery near Rushford.
"We also sell some frozen entrees that we get from a couple wholesalers, like a whole pan of lasagna or turkey tetrazzini or fettuccine alfredo," Reed said. "Some meals that people can take home and throw in the oven."
Reed keeps in mind the time constraints people have at home, when he decides which products to carry, such as chuckwagon sandwiches, the take-and-bake pizzas that he makes and freezes, and the frozen egg rolls, crab rangoon and spring rolls made by Reed's mother, Eiko Francisco, who is a native of Japan. While Reed owns the business, his mother helps there.
"So many people are in a hurry and need stuff that's ready to go," Reed said. "So we're kind of focused on different meal things that don't take a lot of preparation" by the customer.
Reed has been selling chuckwagon sandwiches ever since Chuck's Old Fashioned Meats opened. He began making take-and-bake pizzas about a month after it opened.
"Our chicken bacon ranch (pizza) is probably the No. 1 seller," he said of the pizzas. "Then there's the traditional sausage and pepperoni, and the deluxe, and those kinds of things. But we do some fun other flavors. We do a barbecue pulled pork (pizza) that has barbecue sauce with some onions and pulled pork on top."
You have free articles remaining.
Still, the business is mainly a meat market.
Besides fresh hamburger, Reed said, "We've got a lot of beef cuts, some pork cuts and some marinated chicken" that's marinated elsewhere. "The plan for next spring and as summer comes around is to do some more marinating ourselves in-house."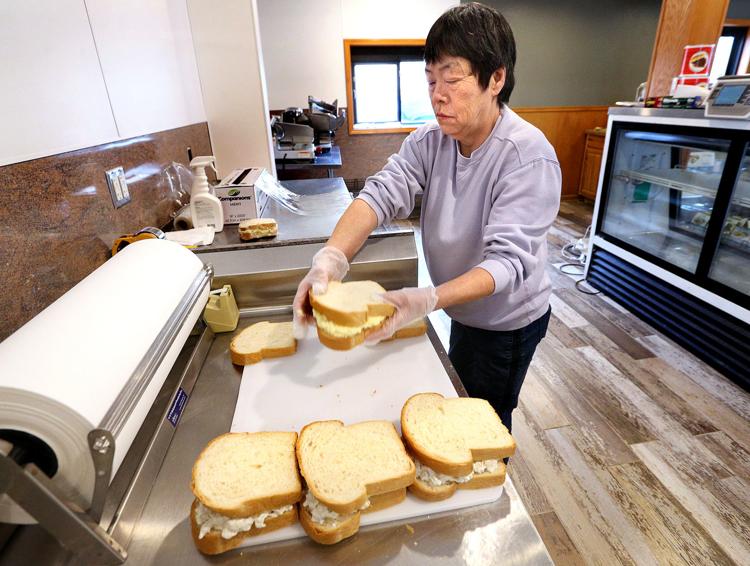 He also wants to begin offering some other new items in the coming months, such as bacon-wrapped peppers and stuffed pork. "Something that people can take home and make with no preparation, so they can have something besides a steak or a burger."
Reed wants to begin smoking meats sometime in the next year. He plans on doing his own smoking of such things as jerky, snack sticks, summer sausage and salmon. His market already sells many of those products, but they're made and smoked by other meat businesses.
Reed, who is 41, graduated from Caledonia High School in 1996 and attended the University of Wisconsin-La Crosse for a few years. Then he held a number of retail and marketing jobs, mostly in the La Crosse area. And for five years, he managed Ma Cal Grove Country Club.
The idea of opening a meat market originated with a post on Reed's Facebook page, in which he asked what was needed in downtown Caledonia.
"The one thing that came up time and time again, was that everyone missed the meat market we used to have" until it closed about seven years ago, Reed said. "So I said 'Let's give it a try.'"